Effective project management depends on the tools your organization uses as much as on its people, processes, and practices. According to the Project Management Institute, investing in the right technology is one of the top three factors that contribute to project management success. Project management software leads to better planning, increased visibility into work, and, ultimately, more successful project outcomes.
Jira, one of the first dedicated project management platforms, has remained incredibly popular and stood out from the pack since its inception thanks to an ever-evolving suite of innovative features. Let's take a look at how this powerful, easy-to-use, and customizable solution can improve project management at your company.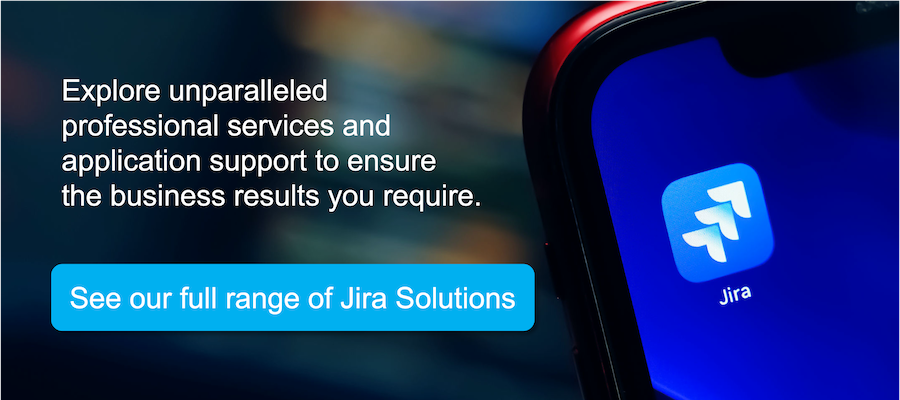 What is Jira?
Jira is a project management tool that helps track and manage projects and related work items across their entire lifecycle. It's a key part of Atlassian's suite of products that are used by 10 million active users in nearly 200 countries worldwide. Jira comes in a variety of flavors that offer an impressive array of capabilities, including Jira Work Management (formerly Jira Core), Jira Software, and Jira Service Management (JSM).
Jira features an impressive level of integration and extensibility. It integrates with Atlassian's entire ecosystem of products, including Confluence and Bitbucket, as well as many third-party tools your team uses every day, like Slack and Microsoft Teams. The Atlassian Marketplace also offers a countless array of Jira plugins that provide Jira with powerful capabilities it lacks out of the box.
A Brief History of Jira
In 2002, Mike Cannon-Brookes and Scott Farquhar met at the University of New South Wales in Sydney, Australia and decided to start a company: Atlassian. While they began by providing technology support for other companies, they soon developed Jira as their first offering. From its beginnings as a tool geared to assist with software development, it's now been adopted by companies across the globe in healthcare, marketing, government, and many other sectors. Jira has consistently grown over more than two decades to capture an unrivaled market share in the project management space.
What Jira Offers Now
Here are just some of the key features Jira offers that increase team communication, efficiency, and performance.
Agile Project Management
Agile project management helps teams respond to changing needs and circumstances more quickly, with a bias for short sprints and producing working, iterable software rather than an endless succession of prototypes. It also emphasizes collaboration and communication with end users to align deliverables with their requirements.
Jira is an invaluable aid for organizations that want to implement agile. It provides native support for both Scrum and Kanban, offers customizable workflows, integrates with DevOps tools like Jenkins, Crucible, and Ansible, and, together with addons, lets you implement the Scaled Agile Framework (SAFe) at your company.
Product Management
Bringing a product over the finish line — and continuing to support and improve it after it's released — requires a platform to coordinate and plan projects across every stage of a lengthy lifecycle. Roadmaps in Jira make it easy to build plans and visually track them as they progress in real time. Jira Software also includes Advanced Roadmaps — formerly Jira Portfolio — which makes it possible to develop roadmaps for even the largest projects that involve teams from across your organization. This helps you experiment with different plans, explore alternative scenarios, and, ultimately, deliver more quality products more quickly.
Task Management
Tasks in Jira can contain a wealth of useful information, from basic details like assignee and due dates to items such as linked files, team members' comments, and how it relates to other issues. You can tailor the fields and layout of the task creation form as needed to ensure team members include necessary information during the creation process. A single task can also be divided into subtasks to make them more manageable and better assign discrete but related pieces of work to specific team members. Jira makes it easy to see whether tasks are completed or in-progress, which team members are responsible for which tasks, and each task's estimated completion date.
Service Management
Service management is a critical part of improving product quality and boosting the satisfaction of customers and other end users. It requires a proactive approach where service teams identify root causes and eliminate issues at their core. JSM covers every aspect of service management, including request management, change management, and asset management and discovery. Self-service portals and knowledge bases with intelligent search capabilities powered by machine-learning make it easy for internal and external users to find the information they need when resolving an issue.
Incident Management
Jira Service Management reduces the time needed to respond to, resolve, and recover from incidents when they arise. You can customize on-call schedules and set up rules for incident routing, auto-assignment, and auto-escalation based on the source and urgency of the issue, so nothing is lost in the shuffle. And JSM improves collaboration with chat channels and commenting capabilities that relevant stakeholders can use to investigate issues together and stay aligned.
Change Management
When change happens, your organization needs to minimize any impact to the delivery of products and services. Jira has the features needed to nimbly adapt when the unexpected occurs. These include formal change requests with important details like risk score and affected services, integration with DevOps tools to associate change with affected services, and the creation of approval workflows based on the type of change and risk involved.
You can even build a risk assessment engine to customize the change management process based on the level of risk involved. For instance, you might automatically approve changes that are below a certain level of risk, so team members aren't stuck waiting for their manager to give the go-ahead on issues that aren't likely to knock the entire project off course.
Reporting and Analytics
Jira's powerful reporting and dashboard capabilities make it easy to generate real-time insights into project and team performance. You can quickly access information on key points like the number of created versus resolved issues, issue resolution time, and average issue age. Whether it's a burndown chart to track progress towards sprint goals or a Gantt chart to understand what has to be done when at a glance, there are plenty of Jira reports you can leverage to boost productivity and efficiency.
Who Can Use Jira
It should be clear by now that Jira offers something for almost any type of user. But how can it specifically make your employees' jobs easier? Here's a handy list of use cases for individuals in a wide variety of roles.
Team/Role
Jira Version
Example Use Cases
Software Development
Jira Software
Agile development, DevOps
integration, change management
Service Desk
JSM
Incident, problem, asset,
and knowledge management
Quality Assurance
Jira Software, JSM
Test management, issue tracking
Marketing
Jira Work Management,
Jira Software
Campaign planning and monitoring,
reporting and analytics
Legal
Jira Work Management,
Jira Software
Approval workflows, document
management, audit tracking
HR
Jira Work Management,
JSM
New employee onboarding,
asset and request management,
workflow automation
Operations
Jira Work Management,
Jira Software, JSM
Inventory planning, procurement
management, DevOps integration,
visualization tools
Finance
Jira Work Management,
Jira Software
Task and request management,
budget approval workflows,
reports and dashboards
What to Consider Before Adopting Jira
Before starting with Jira, it's only prudent to take a look at some of the other tools available. While Jira is one of the top project management platforms in the market, it faces competition from other players, such as Asana and ServiceNow. While Asana is excellent for general project management, it lags behind Jira when it comes to out-of-the-box support for agile, DevOps integration, and built-in roadmaps. The cloud-based platform ServiceNow competes with JSM head-to-head on many features, but it has challenges like longer implementation periods.
You'll also want to ensure you're only paying for the Jira license you need. Whether you're opting for Atlassian Cloud or Data Center, pricing depends on the number of users at your organization. This means that you'll need to carefully consider whether to adopt Jira organization-wide or only within certain teams and departments, while ensuring that old or unnecessary users are regularly removed from Jira to keep your costs as low as possible.
How to Get Started with Jira
Atlassian allows you to purchase Jira directly from their website. Regardless of whether you're purchasing Jira Work Management, Jira Software, or JSM, you can opt for a free trial to see whether the tool meets your needs. Once you complete your purchase, it's time to move on to the installation stage. Before installing Jira, ask the following questions:
Have you ensured your infrastructure is compatible with Jira?
What operating system are you using? Based on Linux or Windows, you can choose the corresponding installer executable.
For Jira Data Center, which database will you store Jira data in? You can choose from SQL Server, Oracle, PostgreSQL, Azure SQL, and more. Keep in mind that you don't need an external database for a Jira Data Center trial.
After addressing these issues, you're ready to install Jira. You can either use an installer, which is the easiest method, or opt for manual installation, which gives more control over and configurability during the installation process. You can also use a Docker container to set up your Jira instance.
Jira Data Center can be installed on a single node (similar to the now decommissioned Jira Server) or on a cluster. After installing Jira, you can also install additional applications that enrich your Jira experience. At this point, you can start customizing your Jira instance by creating a new project, picking templates — like Scrum, Kanban, or bug tracking — and selecting project types. You can also set up custom fields and columns, customize workflows, and create different issues such as stories or bugs.
If these steps appear overwhelming, don't worry: that's exactly why there are Atlassian Solution Partners to help you to adopt Jira and maximize the value your organization gets from it.
Get the Most for Your Money with Jira and an Atlassian Solution Partner
Jira stands out for its rich array of features, many available third-party plugins, and the ability to customize almost any aspect of the platform. Of course, this complexity also means that companies new to using Jira can benefit greatly from a trusted, experienced partner.
Contegix is an Atlassian Platinum Solution Partner that can make your organization's transition to Jira as painless as possible. Its team of experts have helped dozens of private and government organizations maximize the value of Jira and the entire Atlassian toolset. Working with Contegix gives you the peace of mind that comes with knowing your organization's Jira license and deployment is perfectly tailored to match its unique needs.
Contact Contegix to start your Jira journey today.