Atlassian Cloud Migrations
At Contegix, we understand migrations can be an extremely frustrating process, but our Professional Services team is here to make it as painless as possible. With years of experience in the Atlassian ecosystem, you can be confident we have the team in place to handle any of the complexities you may require.
Whether it is a migration from legacy systems, moving from an on-premises deployment, or the consolidation of instances, we can help navigate potential pitfalls or roadblocks that may arise and reduce your cost to migrate overall. Our certified Atlassian experts have performed hundreds of Jira and Confluence migrations and will make your experience seamless and cost-effective with minimal disruption to your teams.
Assess
Our team will perform an initial review to better understand the current state of the environment being migrated, including reviewing configurations, versions, add-ons, and integrations. We will have discussions with administrators to ensure full comprehension of project goals, timelines, and potential impact of the effort. Furthermore, our team of experts will work with Atlassian to make sure your security and compliance needs are met.
Plan
After assessing your Atlassian footprint our experts will design a cloud migration plan that is tailored to your organizational needs, including setting up the entire cloud environment. We will evaluate any Atlassian access for user management (SSO) requirements and handle any licensing needs through our dedicated licensing team. From here we will choose the appropriate migration strategy and begin a runbook for documentation.
Prepare
With the plan in motion, our team will discuss the impacts of migrating with the shareholders and review a tailored pre-migration checklist to ensure a smooth migration. We will start with an initial clean up and decide on whether to sunset, replace, or migrate any add-on data. We then confirm that all software and add-ons required are on supported versions before moving forward.
Test
We test migrations in a staging environment to troubleshoot, refine, and estimate the time involved. Our team maintains a meticulously repeatable runbook including any issues uncovered and fixed during UAT to assure a clean migration.
We will work alongside stakeholders so they can properly test and ensure the migration has been completed to acceptable criteria. Once the entire process has been documented and passed the testing, we communicate with your team to get sign-off and schedule the final migration at a time that limits the potential downtime impact.
Migrate
Our dedicated cloud migration team will execute the migration and communicate regular progress updates with users and stakeholders. We will coordinate with any add-on vendors and Atlassian to ensure data consistency and usability have persisted throughout the migration effort.
| | |
| --- | --- |
| | See how we helped Liquid Agency by conducting a smooth migration and streamlined operations for their team.Read More ➡ |
Start Your Cloud Journey
Contegix is recognized in the industry as the leader in performing Atlassian migrations. Whether you are looking to migrate your Atlassian instance(s) or are trying to figure out which tools are best for your situation, our team of Atlassian-certified experts can step in and make sure your migration is successful.
Interested in learning more? Download our white paper, Considering Atlassian Cloud: An 8-Step Decision Framework.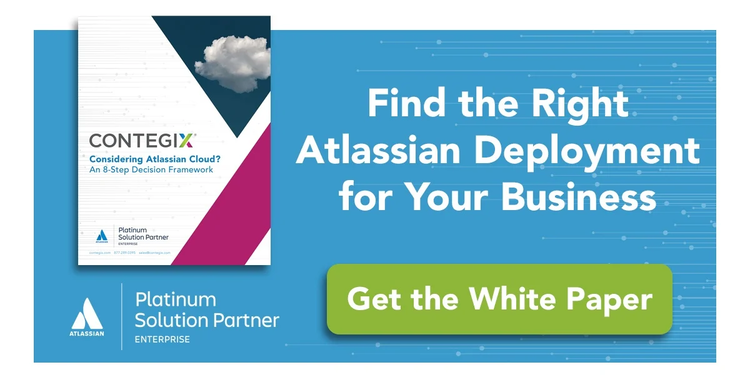 Let's Talk
Ready to talk? Please tell us a little more and
we'll be in touch shortly!