For years, ServiceNow was the leader of ESM and ITSM. Its massive capability list and widespread adoption through discounted upfront sales made it ubiquitous in the IT community and relatively quickly – a tried and true corporate tool. You could do anything with ServiceNow, arguably you still can.
Meanwhile prior to 2016, Jira Service Management -JSM - (formerly "Service Desk") was an often overlooked plugin available on the Atlassian Marketplace along with Jira Software (formerly Jira Agile and GreenHopper if you can remember that!). Well, its different now. Arguably it started with the release of Jira 7.0 which changed the architecture of Jira forever, but its more than architecture. Since Atlassian announced its investment in ESM, ITSM, and all things Cloud, Jira Service Management's capabilities have greatly expanded, and now JSM is the leader of all that is ITIL and ESM.
How in the past several years, was JSM able to overtake the ESM standard which all tools are judged?
Development & Maintenance
The great thing about JSM is it uses a very similar backend (actually the same) as Jira Software (JSW), so if you know one application chances are you can get the hang of the other. Configurations, automations, portals, and more are all configured through the user interface. Knowledgebases are created in Confluence, and connected with a click to your JSM service portal. Theming and look and feel, thanks to the help of apps are a breeze to configure. Compare this to ServiceNow – the problem (and curse) of ServiceNow is you can do everything, and it generally requires custom coding and advanced configuration knowledge. JSM is lightweight, and easy to maintain
Continued Push for ESM and ITIL Compliance
ITILv3 and now v4 are important aspects of the ESM and ITSM lifecycle, infusing agile principles (i.e. retrospective meetings) into daily service support. JSM nails ITIL and ESM out of the box, immediately giving the user Problem and Incident Management capabilities, Service Requests, and pre-defined workflows which can be easily tailored to fit the needs of the organization. Confluence can be further used for internal and external documentation – tracking 'How To' articles and retrospective discussions on major service outages. The addition of a built in Configuration Management Database (CMDB) and the ability to define Services, Sub-Services, and Configuration Items further enforces ITIL compliance.
Integration with Software Development Tools (Bitbucket, Jira Software, Jenkins, and More)
JSM is built on the Jira core backbone of functionality and administration. Subsequently – its easy to connect JSM to your JSW boards (yes you can do that – check out my Agile & ITSM with Jira Service Management webinar session. Not only that, but since JSM can easily connect to your JSW projects, you can also connect it to Bitbucket (and Bitbucket Pipelines), Bamboo, Jenkins, Confluence and other tools defined in the DevOps tool chain. This gives you and your team full visibility into all aspects of your projects from development to operations & support. ServiceNow, sure it can do this too, but its software development tracking capabilities are years behind what JSW offers. Integrate your teams across the DevOps lifecycle easily with JSM!
Modern User Interface
Whether you're using Atlassian Cloud or the Data Center option available for JSM – you're going to be greeted with an easy to use, intuitive User Interface that you can custom as you need to fit your organization's needs. Queues, issues, and the administration page are all laid out succinctly for new (and experienced) users of the tool.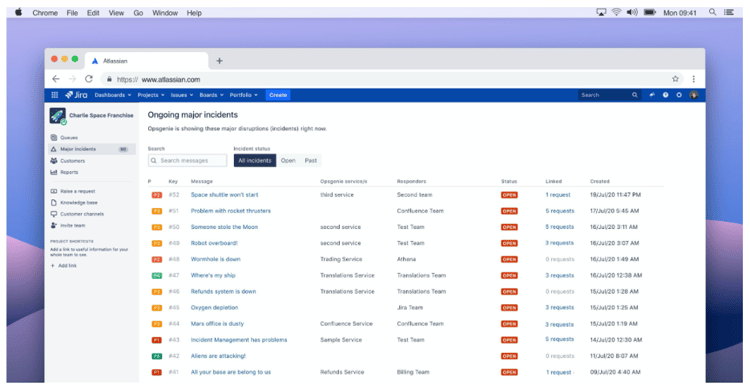 Advanced dashboards and reporting capabilities are available as well with a few clicks and (if you'd like) the use of a Marketplace application such as EazyBI or Arsenale Dataplane. Keep your team up to date with all tasks in progress. Or create wallboards for your executives to review!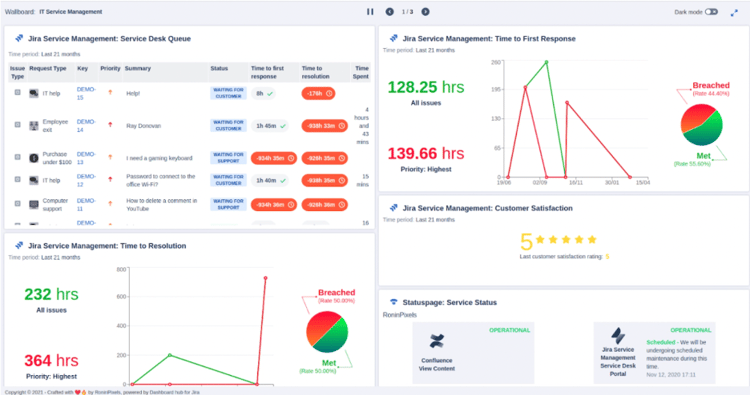 Pricing
Atlassian's pricing model has always been open, both with the core products and the marketplace apps. In a few minutes you can easily budget for the tools and the apps you'd like to use. Don't believe me? Go here: https://www.atlassian.com/software/jira/service-management/pricing The "No Bullsh*t" (its an Atlassian Company Value) approach to the Atlassian pricing model and the multiple features you get as part of Jira Service Management Data Center or Cloud (CMDB, Automation, etc.) make it an excellent price.
ESM Tool Comparison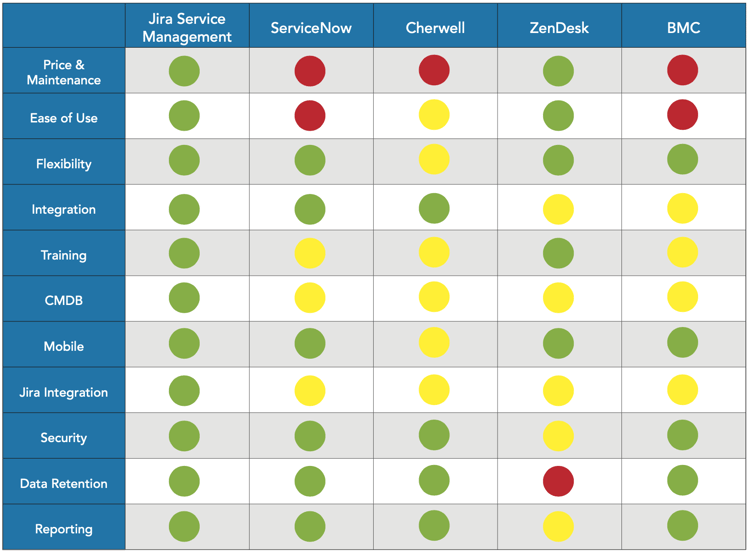 Conclusion
If you currently have ServiceNow and are looking to migrate to another tool, or you're thinking through your ESM / ITSM toolset, please reach out to us and we're happy to provide you with a demo of JSM: https://www.contegix.com/contact