SYNTHESIS™
SYNTHESIS™ is our framework of integrated solutions that empower our consultants to accelerate engagements and implement solutions quickly and comprehensively. Covering all organizational needs, including SDLC/Agile, PPM, ITSM, CRM, GRC and more, these solutions have a proven track record of success across numerous organizations. Discover how SYNTHESIS™ allows organizations to rapidly implement collaborative best practices and enable real-time decision-making.
Accelerate efficiency and best practices across your entire enterprise
Improve Collaboration & Eliminate Silos
Solution Blueprints provide a single source of truth where teams can collaboratively manage all work across the organization in real time.
Increase Platform ROI
Maximize your existing investment in Atlassian to save significant costs instead of purchasing an additional functional solution.
Accelerated Engagement
Start with a complete solution that is quickly deployed and exclusively customized to address your specific requirements.
Enterprise Accelerated Framework for Virtual Workspaces
These SYNTHESIS™ Solutions are formulas and preconceived sets of templates made up of issues/items, workflows, 3rd party apps, and industry best practices based on Atlassian products. Establishing a single source of truth across the enterprise, SYNTHESIS™ improves organizational efficiency by eliminating silos and allowing real-time collaboration.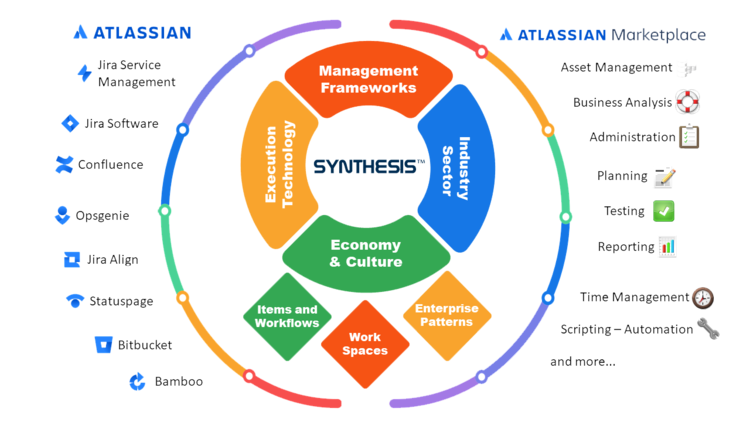 Faster Results.
Better Outcomes.
SYNTHESIS™ Solution Principles:
At Contegix, we value diverse perspectives and believe there are always better ways to approach challenges.
Our solutions are built with a foundation of transparency, enabling collaboration and innovation without sacrificing independence or speed.
By capturing and prioritizing all "open loops," our clients can effectively determine the best course of action.
A successful plan is essential for achieving goals and our team is equipped to help you construct a customized plan that considers timelines and the journey.
With our focus on knowledge management, Contegix empowers teams to work smarter and achieve long-term success.
Align Enterprise Practices and Technologies with SYNTHESIS™
Development
Rapidly deploy a fully integrated solution that works with your development process, whether it's Agile, SAFe, Waterfall, or another process.
Real Time PPM
Your PMO will be operational in days thanks to the efficiency of our Blueprints!
ITSM
Evolve or transformation your service management processes with our ITSM Blueprint.
Increase the
Speed of Implementation
We understand that every business, regardless of size, needs a cohesive team to achieve success for both the business and its customers.
Whatever your goals may be, our team has the experience and expertise to help you get there faster. Contact us today to learn more about how we can support your vision.
SYNTHESIS™ PPM Solution Blueprint Use Case

Working in partnership with a Rogers team, Contegix successfully completed a PPM Solution project for Rogers which is currently providing real-time reporting at all levels for $2.1B of capital initiatives. Based on the SYNTHESIS™ PPM Solution Blueprint, the Rogers PPM Solution provides Rogers with a platform based on Atlassian Products acting as a single source of truth.
Let's Talk
Ready to talk? Please tell us a little more and
we'll be in touch shortly!