Agile practices have revolutionized software development, project management, and more. They keep your team organized, adaptable, and efficient. And thanks to SAFe — or the Scaled Agile Framework — you can now realize the benefits of agile across your enterprise.
Scaling agile isn't without its challenges, though. You'll need to find a way to adopt agile approaches in departments with very different processes and goals, all without disrupting operations, and keep all your teams aligned and focused on delivering value. Without a tool to centralize all your agile work in one place, this is a tall order.
Jira, together with its many addons, is a great way to implement SAFe at your company. From reporting to roadmaps to maintaining alignment across teams, Jira has you covered. Let's take a quick look at SAFe and then dive into how you can use Jira to avoid the pitfalls of scaling agile.
Understanding SAFe
SAFe is one of the most popular ways to implement agile business practices in large organizations. Think of it as a set of best practices that are intended to help enterprises overcome common pitfalls associated with adopting agile at scale. Originally created in 2011 as the "Agile Enterprise Big Picture," it now provides four scaled configurations, each building upon the last, that organizations can choose among:
Essential SAFe: This configuration includes only the bare minimum of SAFe elements, such as Agile Release Trains (ART) — a group of teams that helps ensure they remain aligned with the company's goals and the needs of end users.
Large Solution SAFe: An expansion of Essential SAFe, Large Solution SAFe is intended to meet the needs of larger organizations that aren't interested in Portfolio SAFe.
Portfolio SAFe: As the name suggests, Portfolio SAFe is intended for organizations that will actively practice agile (or "lean") portfolio management.
Full SAFe: This is the most robust and complex SAFe configuration, intended for only the largest enterprises that have the resources necessary to implement it.
Why Scale Agile at All?
While adopting agile practices can be relatively straightforward for organizations with only a couple teams or business units, it quickly becomes more difficult as the size and complexity of the enterprise increases. One of the primary benefits of SAFe is its ability to keep everyone in the organization aligned, flexible, and focused on delivering value to end users. When you have multiple teams working on several key features at once, you need to ensure that they're complementary and will be delivered in a sensible way, and SAFe makes this possible.
Beyond simply making agile work, SAFe enables organizations to draw on the expertise of all parts of the enterprise to maximize the value of every end product. And if certain teams aren't delivering the expected results, SAFe makes it possible to easily identify them and drill down into the data to find out why.

Scaled Agile with Jira
Jira offers multiple ways to help you implement SAFe, from the agile project management features of Jira Software — which can be supplemented with key plugins — to the fully-fledged SAFe capabilities of Jira Align.
Jira Software
Jira Software is Atlassian's agile project management solution. Despite its name, it's intended for use by teams in all industries. Its robust list of project management features include several that make implementing SAFe much simpler.
Workflow Customization
Creating intuitive, efficient workflows is a must as you scale agile throughout your enterprise. Jira's robust workflow management features provide a high level of control over what workflows are associated with specific issues and projects, together with how and when those workflows transition from one status to the next. When moving tasks between multiple teams, a seamless workflow can make all the difference.
Reporting
Tracking resources and analyzing key performance indicators (KPIs) only becomes more important as an enterprise grows. Take advantage of Jira's reporting and visualization features to keep tabs on your teams' performance in real time, so you can quickly resolve the bottlenecks and inefficiencies that can easily arise when practicing agile at scale.
Issue Management
You can use the flexibility of issues in Jira to scale agile by using them to organize tasks in Epics and defining issue types as needed for the different tasks performed by various teams. The ability to link issues can also help keep teams aligned by clearly displaying how issues are related. Carefully delineating user permissions can also help keep team members on track as they navigate an ever-expanding Jira landscape.
Roadmap Development
Roadmaps let you see what tasks need to be completed when, at a glance. While all versions of Jira Software come with roadmapping capabilities, its premium version comes with "Advanced Roadmaps" — which is a must for implementing SAFe. It lets you create roadmaps that can encompass the largest initiatives and even makes automated recommendations on scheduling to boost efficiency.
However, Jira Software isn't able to address all aspects of SAFe on its own. That's why Jira Software users should take advantage of its robust ecosystem of plugins.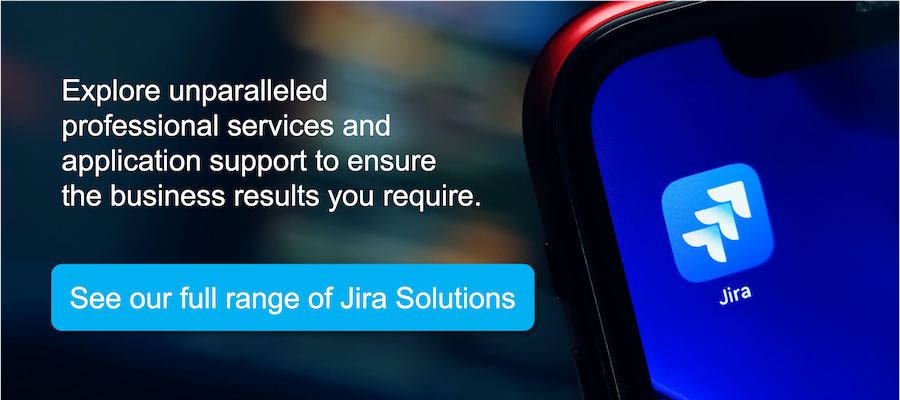 Jira Plugins
To better scale agile using Jira Software, consider using the following three plugins that add critical features for implementing SAFe.
BigPicture
Tracking and analyzing large volumes of work is a requirement for SAFe. The largest unit of work in Jira Software — a project — isn't enough for massive, organization-spanning initiatives. To manage multiple projects, you need a project portfolio management (PPM) tool like BigPicture. BigPicture enables users to group multiple projects in a collection called a program, where they can easily view and manage those projects' resources, roadmaps, and tasks.
Structure
Structure is a PPM tool that takes a different approach to managing multiple projects, centered on configurable hierarchies. These hierarchies determine how you view the projects and issues in Jira, which are displayed in a spreadsheet view that updates in real time. Without the capabilities of a plugin like Structure, managing hundreds or even thousands of issues in Jira isn't possible.
eazyBI Reports and Charts for Jira
While Jira comes with some powerful reporting tools, supplementing them with an addon like eazyBI is a good idea if you're interested in SAFe. Visualizing data in reports and charts, embedding them in dashboards, and even making them interactive are all great ways to keep important data to hand so you know that you're scaling agile the right way. eazyBI offers all this and more.
Jira Align
While Jira Software, together with the plugins like those listed above, can assist greatly with implementing SAFe, Atlassian now offers a solution that was designed from the ground up to handle every aspect of implementing SAFe: Jira Align. Jira Align integrates with Jira Software and adds capabilities that make managing work at higher levels much easier, from increased visibility throughout your organization to maintaining alignment with your overall business strategy.
Realize Agile at Scale Today
Jira is a powerful tool, but using it to implement SAFe is more than a matter of starting it up and diving in. Aligning Jira with your business strategy, customizing it so it meets all your needs, navigating the plugin marketplace — there's much to be done. Looking for a certified Atlassian Solution Partner to help is only sensible.
Contegix is a Platinum Atlassian Solution Partner with years of experience handling all aspects of deploying and running Jira, from hosting to consulting services, for hundreds of satisfied business customers. It has the deep expertise needed to assess your needs and configure Jira to increase your internal efficiencies. Whether it's building a roadmap for optimizing your toolset or fine-tuning detailed workflows for every team, Contegix has you covered.
Contact Contegix's experts to take advantage of their expertise today.