As the need to deliver online service support grows, IT service management (ITSM) teams, the long unsung heroes behind organizations' support efforts, are being thrust into the spotlight. These teams are responsible for meeting the growing demand for high-quality support experiences, such as providing first-class ticketing and online service management systems. However, existing processes or tools are not designed to meet the pace of today's "always-on" world and can often hinder ITSM teams from rapid responses to internal or client issues.
To meet the pace of new demands, a new version of ITIL (the framework of best practices for delivering IT services) has emerged. The latest version, ITIL v4, emphasizes IT-a-as-service and the infusion of agile delivery into IT services—a major update from the previous ITIL framework. ITIL v4's guiding principles read like a love letter to the Agile Manifesto, which means that for ITSM teams to meet this framework, they must not only understand agile principles, but also adopt the right agile tools to infuse this methodology into ITSM processes.
Over the last decade, Jira software has become the backbone of delivering agile outcomes for software teams across the globe. Now, Jira Service Management (JSM) is doing the same for IT departments. As part of the Jira software suite, JSM is a powerful tool for ITSM teams to incorporate agile methodologies into ITSM processes.
Here are four ways JSM can improve speed and efficiency to deliver better satisfaction to customers or internal users:
1. Faster MTTR
Outages and technical incidents have a bigger impact now that more work is happening remotely. To reduce glitches and downtime, it's crucial for software teams to measure and assess how they respond to issues in order to improve key metrics, such as MTTR ("mean time to recovery, repair, respond or resolve").
MTTR has become an important benchmark for understanding how often incidents occur and how quickly they are resolved. Jira Service Management helps teams collaborate to get services up and running again more quickly. JSM also allows teams to quantify and track metrics like MTTR, providing insights that help ITSM teams establish a more effective incident gameplan that expedites responses to outages.
By replacing traditional service desk emails with support ticketing through JSM's portal, IT teams spend less time triaging issues. JSM also records key information that can be used to automate resolution of similar issues more quickly and for teams to review together. This detailed knowledge can improve response processes and outcomes down the road.
2. More Effective Communication
Glitches and outages are unavoidable, but communication and resolution speed are crucial to maintaining customer satisfaction during any incident. JSM's notification and communications toolset enable organizations to improve responses to customers, users or internal teams.
During service interruptions, ITSM teams can use a number of widely-used integrations, such as Statuspage, to automate the process of pushing important and timely status updates to customers or users. Meanwhile, internal teams can link support tickets directly to major incidents to collaborate and see status changes in-real time, receiving notification updates as different members of the team resolve their respective issues to bring services back online faster.
3. Increased Open Team Collaboration
Technical issues that cause service disruptions often fall beyond what ITSM teams alone can handle on their own. For example, if a software bug causes an outage, ITSM teams must be able to communicate with development teams to bring services back to full functionality.
JSM's connected platform enables improved open collaboration across teams and disciplines, from software development to security, and even legal or HR. By default, JSM connects with Jira Software and other Atlassian tools to view and comment on software projects or issues that may arise. And a few updates to permissions can make further collaboration between service desk teams and software teams (or virtually any other team) possible.
In doing so, JSM enables more cohesive notification updates and "ChatOps" (a collaboration model connecting people, tools, process and automation) across teams, allowing ITSM to create open work and knowledge sharing environments to more effectively address and resolve service issues with the help of the entire organization.
4. Continuous Improvement
By tracking key metrics and improving communications and open team collaboration, JSM provides a platform for ITSM teams to unlock a core tenet of agile's best practices: continuous improvement.
JSM provides rich contextual information into the cause and result of service issues that ITSM teams can leverage in order to learn and then improve from outages. And with organization-wide visibility and collaboration through JSM's vast platform and integrations with other Atlassian tools, ITSM teams receive much-needed support from other departments as keeping the lights on for services becomes an organization-wide effort.
Next Level Support for Jira Service Management With Contegix
Unlocking the benefits of Agile ITSM with JSM is only possible if the JSM instance has been properly configured to meet the unique needs of the organization. JSM offers powerful support out of the box, but with the help of a Platinum Solutions Provider like Contegix, the platform can be further optimized to integrate with an organization's entire suite of software and collaboration solutions.
Contegix's team of experienced Atlassian experts have implemented and customized dozens of purpose-built JSM solutions. Contegix will provide a detailed assessment of an organization's current ITSM toolset and workflows, identify the pain points and future Agile ITSM goals and then build a custom JSM solution with all the integrations and permissions needed to achieve those objectives. Beyond the initial install, Contegix experts continue to support ITSM and projects teams to fine-tune JSM services as needed to develop more Agile workflows.
To improve issue response times, enable better communication, open team collaboration and unlock new agile benefits such as continuous improvement, organizations can look to a trusted agile technology partner like Contegix. Contegix can optimize and customize an organization's JSM instance and other Atlassian solutions to realize better ITSM outcomes for happy customers and users.
ESM Tool Comparison
See how Jira Service Management stacks up against other ESM tools: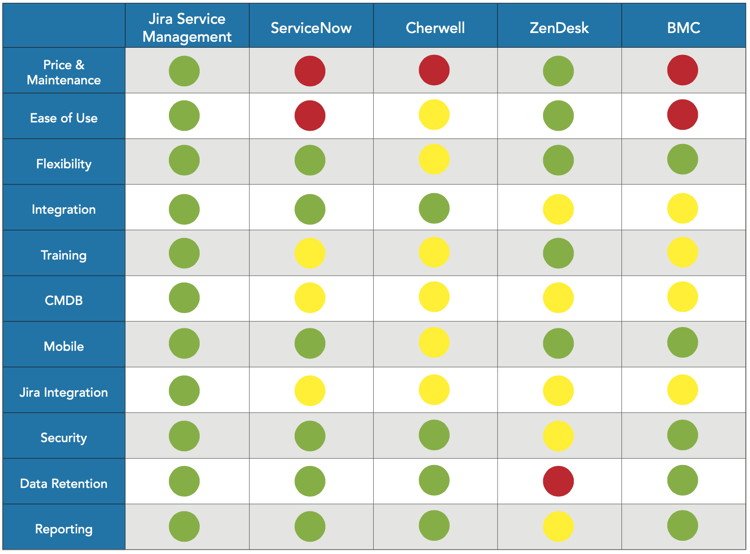 Watch this on-demand webinar: "Resolve Problems and Make Your Clients Happy: Agile & ITSM with Jira Service Management" to learn even more about using Agile and ITSM with Jira Service Management, and click here to get started with Contegix's experienced Atlassian experts to optimize JSM today.