Contegix is Now Specialized in Both Atlassian ITSM and Cloud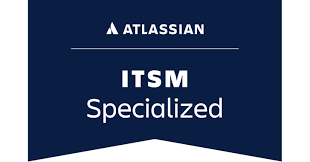 St. Louis, MO., Feb. 23, 2023 -- Contegix, a leading Atlassian Platinum Solutions Partner in the U.S. and Canada, that delivers technical consulting services for the commercial enterprise and U.S. Federal markets, today announced that it has achieved Atlassian ITSM specialization. ITSM Specialized Partners are exceptional service management professionals with strong roots in IT and service delivery processes, as well as ITIL methodology and the deployment of Atlassian products for enterprise-level customers. Contegix is now an Atlassian Specialized Partner in both ITSM and Cloud; the Cloud specialization was earned in 2022.
Partners with a specialization have established a validated practice, demonstrated technical expertise and proven customer success. Contegix earned its Atlassian specializations by fulfilling rigorous requirements for both ITSM and Cloud. Contegix's ITSM services include:
Overseeing ITSM projects and integrating shared workflows and SLAs across Developer, Ops, and IT teams.
Identifying and supporting specific service scenarios and driving implementations based on ITIL 4 Practice Groups and guidelines
Driving ITSM system enhancements, customizations and the fine-tuning of IT services
Leading multi-vendor migrations and systems integrations
Sharing domain knowledge and aiding in the implementation of best practices
A key component of Contegix's ITSM offering is the SYNTHESIS™ framework, which provides a proven approach for Atlassian users to implement industry best practices. Contegix consultants utilize a range of knowledge assets through SYNTHESIS, enabling them to build solutions faster, more comprehensively and to execute consulting work effectively. A complete list of the company's ITSM services is featured on the company's website.
"A strong ITSM practice enables IT teams to align with business needs on an ongoing basis," said Michael Brown, senior vice president of professional services at Contegix. "Our ITSM experts and Atlassian technical engineers work closely with organizations in the U.S. and Canada to drive efficiencies, reduce cost, and enhance collaboration. Our SYNTHESIS framework is a clear differentiator as it quickens time to value for our customers."
Atlassian ITSM specialized partners help organizations empower Dev, IT Ops, and business teams to collaborate at a high velocity so they can respond to changes and deliver great customer and employee service experiences. Contegix has proven its ability to deliver effective solutions that help organizations maximize the value of Atlassian products.
About Contegix
Contegix helps organizations advance "all things" Atlassian and delivers specialized solutions for Cloud, ITSM and Agile. Founded in 2002, Contegix was Atlassian's first partner in North America. An experienced staff of Atlassian certified experts delivers everything from cloud migrations to ITSM deployments to ongoing application support and more. Learn more at www.contegix.com.