Digital.ai have released their 16th annual State of Agile report, with a number of very interesting takeaways; the simplest being the growing popularity and dominance of Atlassian. Atlassian's success is further compounded by the growth of SAFe and the important role tools play in Agile going forward. The State of Agile report surveys over 3,000 individuals in the Agile space and is an incredible resource for understanding all the major trends in the Agile world.
At Contegix, as an Atlassian Platinum Solution Partner, we're passionate about ensuring organizations go beyond "bootstrapping" Agile and instead ensuring Agility is a core competency in their enterprises. We strongly believe that Atlassian's tools are the best suited to ensuring organizational tools are closely aligned with methodology. In this regard, Agile practitioners and the State of Agile Report seem to agree with us.
Atlassian | Jira & Jira Align
As Figure 1 shows, Jira is by far the most popular tool for managing Agile projects with 2/3 of respondents using it. While this is slightly down on the 72% of respondents last year who stated they were using Jira, the growth of Jira Align (Atlassian's Scaled Agile Management Platform) more than makes up for this. Therefore, rather than customers shifting from Jira to alternative tools, teams already using Jira Software are seemingly making the decision to embed Atlassian deeper into their Agile practice with Jira Align. This would also reflect what we have seen in our Scaled Agile implementations.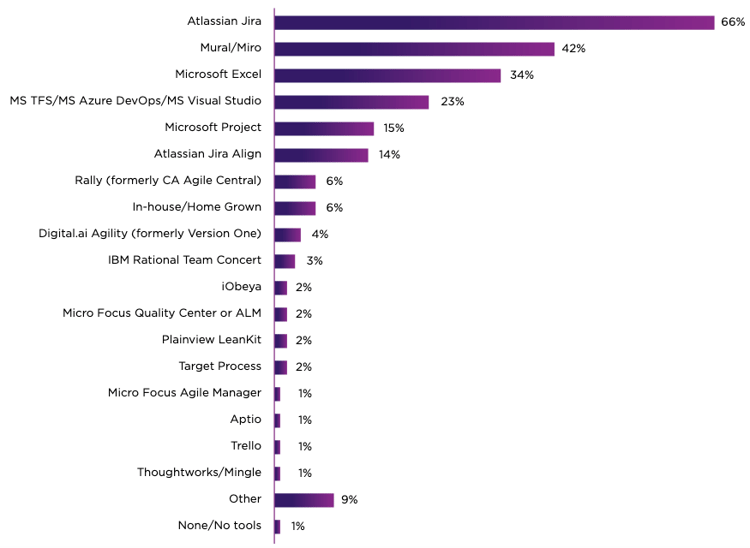 Another interesting trend is the growth of whiteboarding tools like Mural and Miro, which are now being used by 42% of Agile teams. The growth in whiteboarding tools is something we have also noticed in our MARS Atlassian Marketplace analytics. Miro integrations for Jira and Confluence have grown by 50% over 2022 while the figure even more impressively 170% growth for Mural's integration to Jira. However, the Atlassian 3rd party app space is so rich in innovation and quality that many organizations are opting to get their whiteboard functionality directly through 3rd party applications on the Atlassian Marketplace. Native whiteboarding tools like Whiteboards for Jira by Appfire (up 50% over the past year) integrate more deeply with Jira and can represent a major cost saving over external tools like Miro and Mural and are therefore definitely worth considering for organizations who are heavily managing Agile in Jira.
Meanwhile, the success of Jira Align that we've seen over the past year neatly ties into the respective success of Scaled Agile Framework (SAFe). SAFe was once again the most popular Enterprise Agile framework. 53% of respondents reported leveraging SAFe, up from 37% of teams last year, which represents good news for Jira Align. Jira Align is perfectly situated to act as a central hub when looking to implement SAFe successfully with a host of features that support it with robust functionality across all levels of SAFe. The Atlassian suite on the whole works particularly well with SAFe and is of great use when implementing SAFe in any organization due to its radical flexibility. With each tool providing a different benefit, Atlassian tools are the ideal set that complement any implementation of SAFe.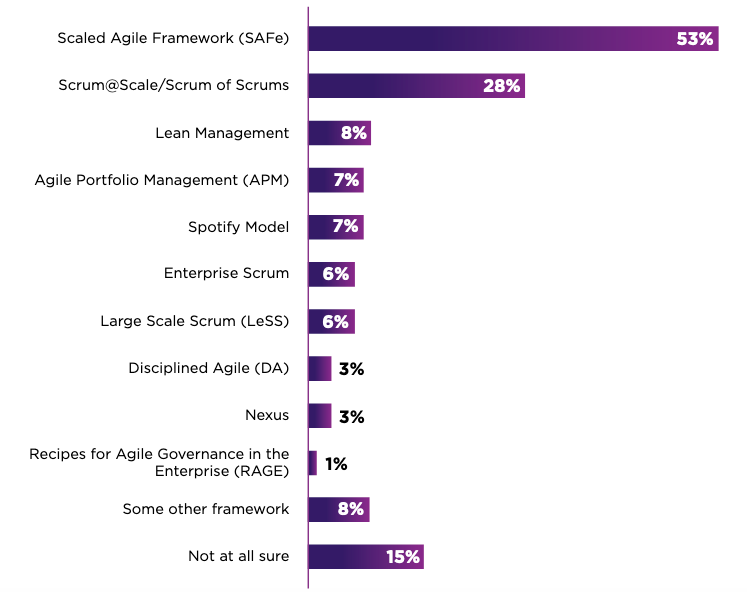 Tooling
On top of the success of Atlassian's products in the Agile space, another key takeaway we had from State of Agile was the growing importance of Agile tooling in general. Two pieces of data highlighted this to us, the first of which was the fact that only 2% of respondents were fully back in the office. Evidently, when teams are not physically together (as is the case for 98% of Agile teams) the importance of collaborative tools becomes significantly more important. Teams who are not physically together require a tool to bridge that gap–particularly teams and individuals who are also not operating in the same time zone/work hours.

However, despite this universally accepted notion of tools being more important than ever, it is still the case that many organizations are getting it wrong. As Figure 4 shows, the number one most cited reason as to why Agile was not being adopted successfully was tools related. 42% of respondents claimed their organizations "still had many legacy systems requiring a mixed approach." The prevalence and expansion of sub optimal tools is something we've touched on before so it's no surprise that Agile teams are also experiencing this problem.
It is an inescapable fact that tools are becoming increasingly integral to team, and particularly Agile team, success. Therefore the fact that organizations are still letting down their Agile teams with tools that don't meet their needs is very disappointing. However, it is perhaps promising that the most cited blocker to Agile adoption is not cultural issues but is something far more easy to remedy. Atlassian's tools, in particular Jira and Jira Align, are perfectly situated to help Agile teams get on the same page, no matter where they are in their agile journey. As we have seen in the State of Agile report, Jira is already the most popular Agile tool with 2/3 respondents using it while the Atlassian suite is perfectly situated to support SAFe implementation. Further/better implementation of Jira/Atlassian could just be the solution to the biggest pain point organizations are facing when it comes to Agile.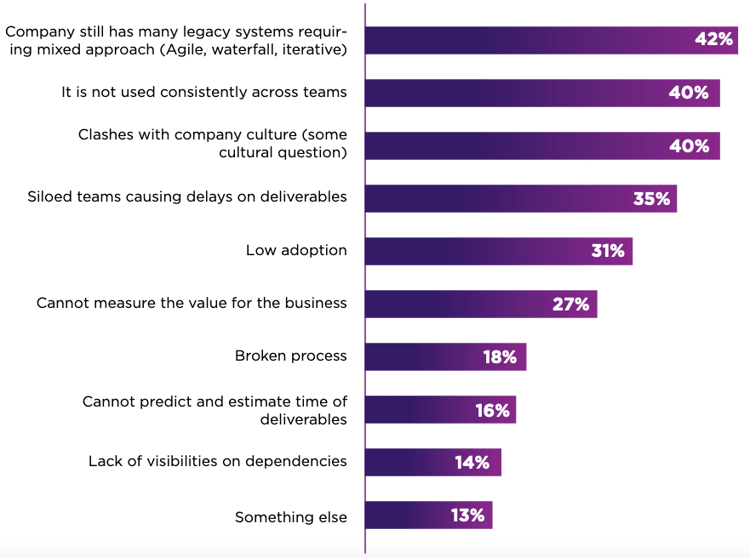 Conclusion
The 16th State of Agile Report has reiterated a number of factors that we believe to be very important in the Agile space. The success of Jira/Atlassian, the prevalence & growth of SAFe, and the overabundance of tools that aren't doing their job sufficiently are all things that mesh in with our Scaled Agile practice perfectly. We have a strong practice in helping businesses to simplify the complex challenges of an Enterprise Agile Transformation while our experienced team can help you not only better understand the importance of going Agile but also the implementation of SAFe and the Atlassian Suite. If you're interested in learning more about how Contegix can help your Agile Transformation then get in touch with us!
You can read the full 16th Annual State of Agile Report here.