Before we start on why Waterfall is even better in Jira, let us discuss the role of traditional planning.
Rightly traditional planning is one of the most important disciplines in getting anything done successfully, not just in Waterfall.
We know Agile is a strong way to develop code or quite frankly, build anything. However, we also know many of our clients have many teams that do waterfall-based planning. When there is a high degree of confidence in estimation and the risk of change is low, a solid, stage-based plan with milestones and dependencies can't be beaten. Yet in our opinion, many PMs look at Jira thinking its a development or bug tracking tool because it just doesn't look like a planning tool. If you read this then we hope it will change that view forever.
However…
There are so many reasons why Waterfall is better in Jira that we can't cover them all here. Hence think of this as a highlight reel and ask us later for more details.
The seven reasons are to do all your planning in Jira are;
You can do everything in Jira that you can in traditional planning tools
Planning in Jira means you're in the same place as development and likely support teams
Requirement management and planning are more tightly integrated
Planning can be both agile and waterfall ie quasi-agile/at the same time
Can collaboratively share plans with everyone
Real-time status reporting means you can be rid of Powerpoint
Managing RAID logs is an integral part of Jira and the planning process
A few preliminary comments…
When we say Jira we really mean all the Atlassian products because they are tightly integrated across the planning process. Secondly, we are rolling into this our favorite Add-On Apps. There are a number of them that you could look at;
Gantt Chart Project for Jira
WBS Gantt Chart
Gantt Chart for Jira
A Microsoft Project Importer designed just to make sure its easy to do away with MS Project
For the purposes of this post – we're previewing Big Picture which has Gantt charting plus program and resource management functionality. We'll even throw in a few more of our favorite add-on apps along the way! If you would like to learn more about Big Picture, please follow the link here.
Reason #1: You can do everything in Jira that you can in traditional planning tools
Below you can see that with the Big Picture add-on, simply select what program or project you want and then open up the plan. Plans can either be from pre-existing projects, filters or you can create items or tasks for the plan. In this version of Jira, you can also see that we have used the language pack facility to translate issue to item. That's a handy hint if you believe like us that Jira is all about managing anything and not "issues".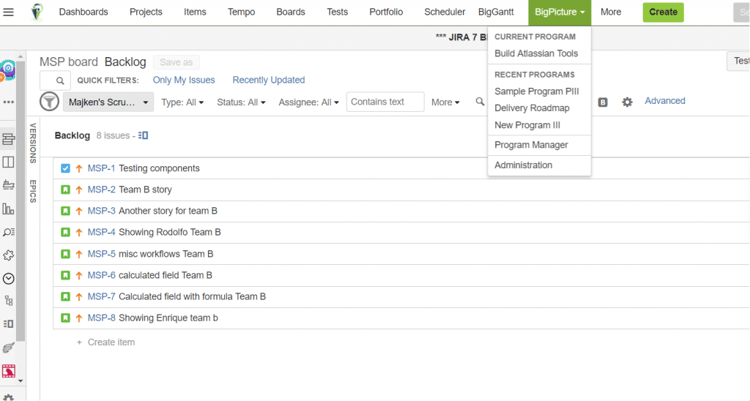 Wait a minute, that looks familiar!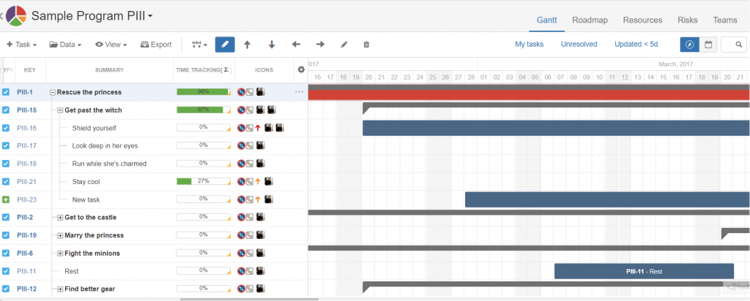 By selecting Gantt you have a standard planning view that looks very much like Microsoft Project! In this amusing case, the goal is to rescue the princess and the WBS is based on stages such as getting past the witch – taking a rest and marrying the princess. You can configure the columns to be any fields from Jira, create simple dependencies, create any hierarchical WBS you need by indenting or outdenting with the arrows above the plan. It's really a simple extension to Jira. BUT if you plan this way all the participants in the team who are using Jira are collaborating in your plan. Inside the Jira record itself – its role in the WBS is exposed.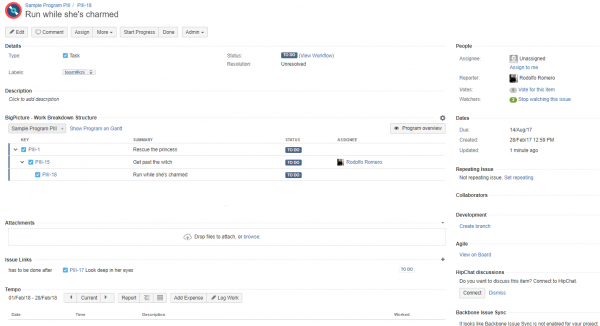 As you can see above all the foundational features of Jira are available. Plus a context on this task's role in the WBS, dependency management and also with Tempo timesheets are as well fully integrated. Anyone from the team can be assigned and there are plenty of resource management features. We will discuss Tempo later, just to note that this is the foundation of real-time status reporting and portfolio management.
Resource Management in Waterfall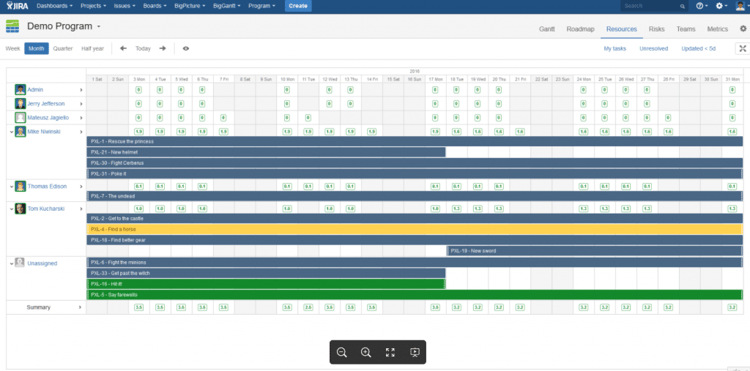 It's all there for you in the resource management module. Employees effectively become Gantt charts themselves allowing for individual capacity planning and team-based views.
A final point is that its easy to have a programmatic view of your portfolio using the program management module: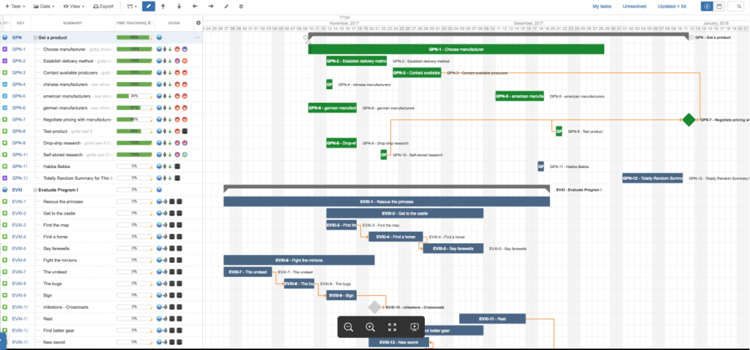 So Big Picture has the ability to create highly sophisticated plans, that are genuinely shared with teams, which are updated on a real-time basis. Given most organizations already have Jira, the pricing for this add-on is incredibly effective – literally a $1.50 per user to purchase for the first year and even less to renew. So what are you waiting for? Dump that old MS Project plan and start creating masterpiece real-time plans in Jira!
Next Up… What it means to plan in the same place as the development, testing, and support teams!
If you'd like to discover how to unleash the power of Big Picture in your organization, then contact us today.