MARS App Profile

App: Vault Password Manager
Vendor: Alpha Serve
Primary Category: Security
Secondary Category: Password Management
Product: Jira
Platform: Cloud
At Contegix, one of our unique offerings as an Atlassian Platinum Solution Partner is our MARS database of 3rd party applications. Through MARS we are able to gain unparalleled insights into Atlassian Marketplace applications, provide unbiased recommendations to our customers, and help promote the Marketplace across the Atlassian ecosystem.
As a part of this, at Contegix we are always on the lookout for new and exciting Atlassian Marketplace applications. This month we will be highlighting Vault Password Manager by Alpha Serve!
MARS
The Atlassian Marketplace is a hub of innovative products designed to help customers extend the functionality of their Atlassian products. One of our unique offerings at Contegix is our Marketplace Analytic Research Service (MARS) database of Atlassian Marketplace 3rd party apps. Through MARS, Atlassian customers and partners can rely on us for objective, unbiased analysis and metrics on Atlassian Marketplace apps.
On top of incorporating great functionality out of the box, the Atlassian toolset represents an incredibly diverse and customizable platform onto which a vast array of additional functionality can be added.
Through MARS we are able to see that the 5,000+ Atlassian Marketplace apps generate a remarkable 2M installs with these apps having 1B users under management!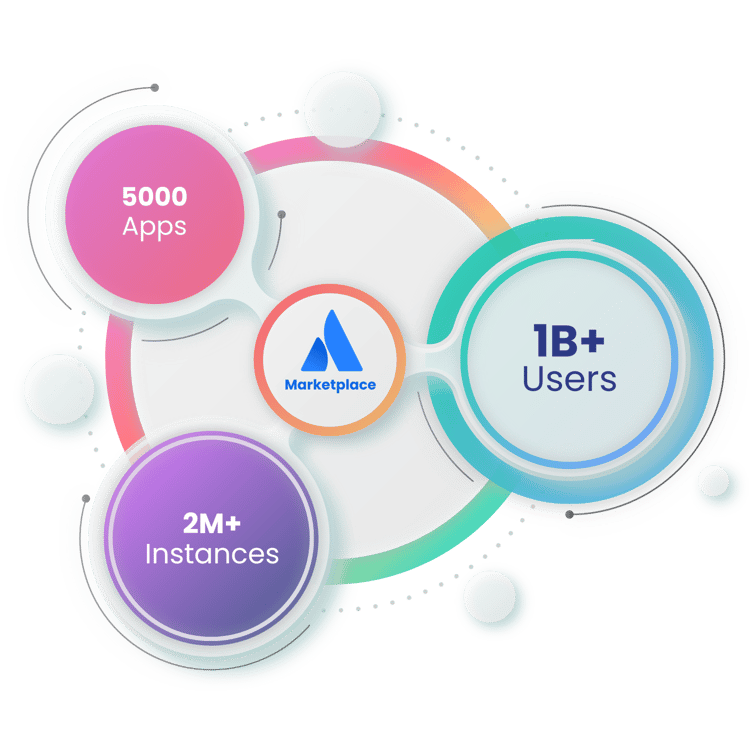 App of the Month
With so many apps out there, finding out about interesting new apps that can add value to your instance can be a daunting and time-consuming task. Thankfully, through MARS we are able to take a bit of the pressure off!
On top of our regular MARS content, every month we highlight our "App of the Month". This app, selected using MARS-powered insights, provides unique value to customers and is a tool that we believe more Atlassian customers ought to know about.
Congratulations to Vault Password Manager for being our App of the Month for August 2023!
Vault Password Manager
Vault Password Manager by Alpha Serve is a powerful tool designed to address the complexities and challenges of password management within businesses that use Jira.
Vault is a Cloud-only tool and is the only password management tool of its kind for Atlassian Cloud. Furthermore, being built in the Atlassian Forge platform Vault ensures robust functionality and seamless integration with Jira, but perhaps most importantly providing best-in-class security for your all-important passwords.
Features:
Organized Credentials: Vault provides a secure and encrypted space for storing all kinds of credentials, such as accounts, passwords, notes, payment cards, and more. It allows users to create personal or team Vaults, managing all credentials in one place.
Secure Sharing: Vault facilitates the secure sharing of passwords with Jira users and groups, making account access convenient for your team. thus eliminating the need for insecure transmission via email or messenger.
Encrypted Storage Space: All Vault data is stored in the company's Forge Storage in an encrypted format, using AES-256 bit encryption. This industry-standard encryption ensures complete security.
Unlimited Vaults: Users can create unlimited personal and shared Vaults. This provides flexibility and scalability to businesses of all sizes, allowing them to grow without worrying about storage limitations.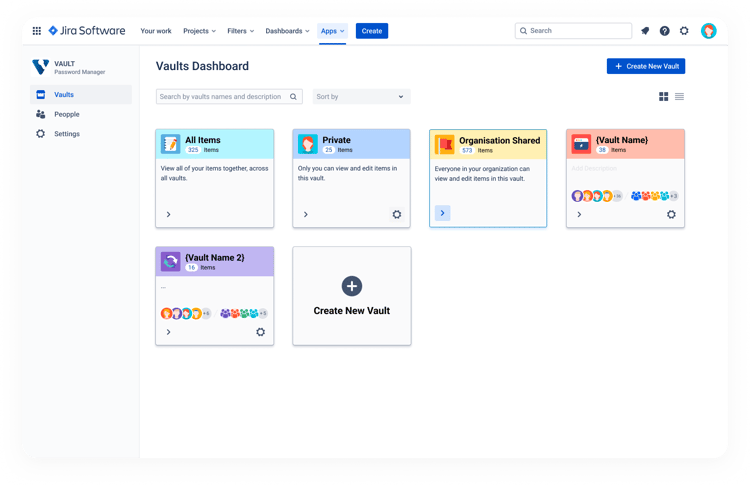 Password Recovery: Vault also includes a password recovery feature. If users forget their Vault account password and lose the recovery key, they can request the Jira admin to initiate the password recovery process.
Additional Security Layers: Beyond the basic Jira login security, each user account is protected by a personal account password for their Vault, adding an extra layer of security.
Auto-Logout: To further enhance security, Vault monitors idle sessions and automatically logs users out after a period of inactivity.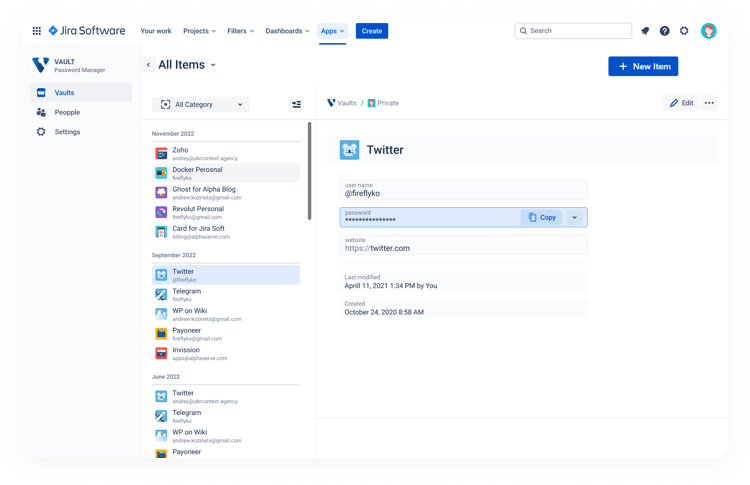 Use Cases:
Password and Credential Management: Vault serves as an enterprise-grade app for managing all company's passwords and credentials within Jira.
Secure Data Sharing: Vault enables secure sharing of sensitive data like passwords and account details with specific Jira users and groups.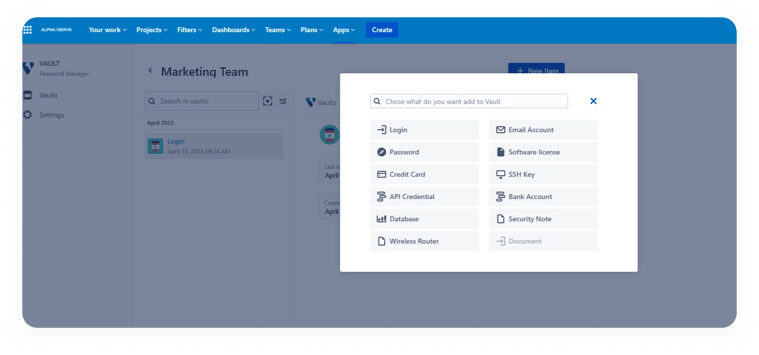 Enhanced Data Protection: By storing all data in an encrypted format and providing additional layers of security, Vault helps organizations protect sensitive information and mitigate data breach risks.
Centralized Control: With Vault, companies can have centralized control over all access and accounts within Jira.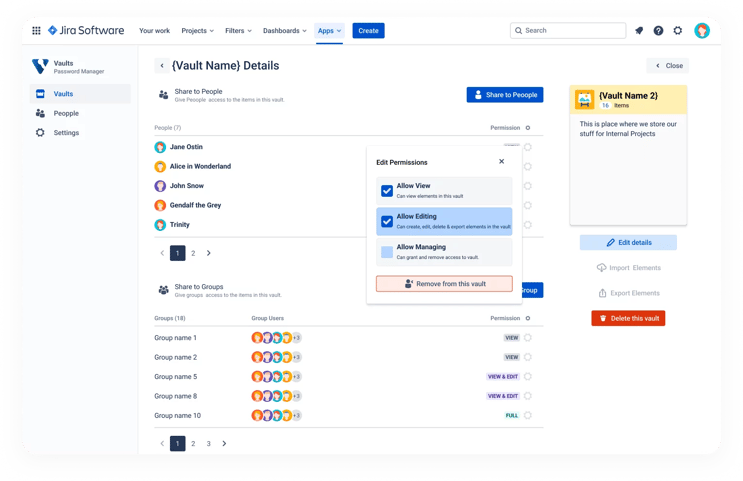 If you're interested in learning more about MARS and how Contegix can help you optimize your Atlassian Marketplace utilization please get in touch with Contegix. If you are interested in learning more about Vault Password Manager then please reach out to Alpha Serve.