2022 is shaping up to be the best year yet for Jira Service Management (JSM). In the same week that Atlassian announced that JSM has seen 10,000 new customers over 2022, Gartner released their latest "Magic Quadrant™ for IT Service Management Platforms" in which Atlassian was designated a "Leader".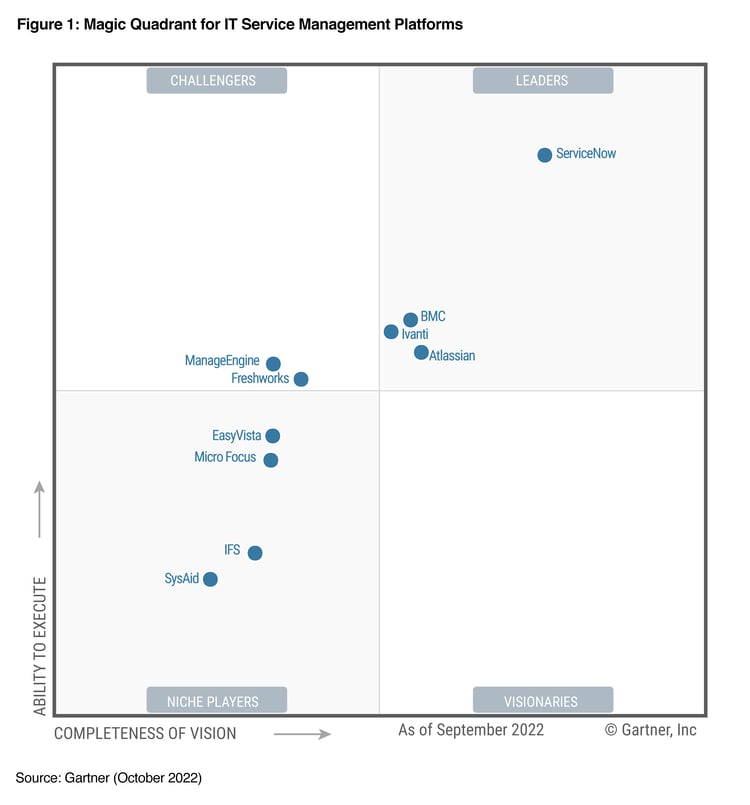 While JSM's Magic Quadrant™ success is long overdue (given a number of assessment biases against JSM by Gartner which we'll get into later) the numbers behind JSM don't lie.
JSM's customer base (45,000) dwarfs that of ServiceNow (~8,000). More remarkably though, this means that the number of new JSM customers this year (10,000) is also larger than ServiceNow's total customer base!
That Gartner could no longer ignore JSM's massively accelerating popularity, and the success that many organizations have experienced, both new and migrating from ServiceNow, is a significant step.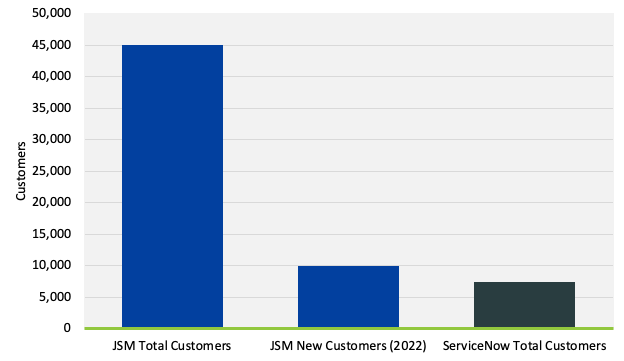 JSM's growth in the ITSM space is no surprise. Offering a lower-cost solution that is closely integrated with Jira Software, choosing JSM is the common sense option now for both small and large organizations. While ServiceNow can claim to generally have larger customers than JSM since these large customers are all already using Jira Software for their Agile/DevOps needs, ServiceNow's status among these larger organizations could come under threat as JSM's reputation continues to grow.
However, despite JSM getting some recognition from Gartner, a number of their criticisms of the platform are somewhat unfounded and would be remedied with a greater understanding of the deep and diverse wider Atlassian ecosystem.
Atlassian has a highly developed system of "Solution" and "Marketplace" partners (like ourselves) whose existence Gartner seems unaware of. Two of Gartner's cautions over JSM (account management and product gaps) are fulfilled by Solution Partners and Marketplace Partners respectively with Atlassian relying significantly on the thriving, innovative, and competitive Atlassian Partner space to meet these needs.
Gartner's JSM Cautions:
Account Management
By claiming that Atlassian's account management is "largely focused on larger, more strategic accounts" Gartner seems to display a misunderstanding of Atlassian's business model. As a developer-first organization, Atlassian's primary focus is on improving product quality and investing in R&D (something Gartner does praise). For the "account management, direct implementation services, and direct customers success support" that Gartner claims is lacking, there is a global suite of Atlassian Solution Partners like Contegix whose entire operations revolve around meeting these requirements for Atlassian customers. In this sense, Atlassian is seemingly being punished by Gartner for having a highly developed and sophisticated partner network. As we'll see with their next criticism, the excellent work being done by Marketplace Partners is also being overlooked. However, if you do feel like your JSM account management could be improved upon or if you need assistance in any areas with your JSM implementation then please reach out to us and we'll be more than happy to assist you!
Product Gaps
With over 4,000 apps and 1.6M active installs, the Atlassian Marketplace is one of the most well-developed 3rd party application marketplaces out there today. By claiming that JSM "lags behind more advanced tools in some critical capabilities", Gartner seems unaware of the suite of tools available that cover the requirements they deem to be missing. As many JSM customers would testify to, the relatively low cost of these add-ons and the variety of different tools available to JSM customers on the Marketplace is a major upside of opting for JSM. However, if you believe that JSM is missing some desired functionality then we would highly recommend getting in touch with us. With our MARS database of 3rd party applications, we're optimally positioned to help you navigate the Atlassian Marketplace and find the right tool for your organization.
Vertical Market Focus
Improvements to Atlassian's cloud offering are coming thick and fast (as Gartner admit) while the Data Center option actually offers a far more compelling option for compliance-sensitive customers than they admit. Many of these customers will already be hosting Jira Software on-premise while there is a slight irony to the mention of "expensive Data Center licenses" when they are compared to ServiceNow.
Fortress Architectures
However, while we do appreciate that JSM and Atlassian are increasingly being recognized by Gartner in the ITSM space, we have some more general concerns when it comes to the "Gartner mindset." This "Gartner mindset" often leads organizational decision-makers down a questionable path when it comes to tool selection. This almost always comes back to bite them when considering the interplay this has with popular methodologies.
With this mindset, organizations will often end up buying whatever the supposed leader in a market segment is. This will often end up being Jira Software in SDLC/DevOps, Planview in PPM, Oracle in ERP, and of course ServiceNow in ITSM. However, these tools often operate as and are often run like "fortresses" in that they are very defensive of the data they contain and are bad at integrating across platforms. This flies in the face of popular methodologies (like ITIL, SAFe, and Integrated GCR) which strive for integration and connectedness and often run up against these fortresses that insist on control.
This is often an issue when it comes to integrating ITSM and DevOps, especially when ServiceNow is being used for ITSM and Jira Software for DevOps as is the case in many organizations. However, since Jira Software runs on the same platform as JSM, an easy fix to the ITSM fortress when it comes to DevOps is using JSM. The benefits from this natural integration and the synergistic benefits of bringing JSM and Jira Software together should make opting for it a stonewall choice for all organizations.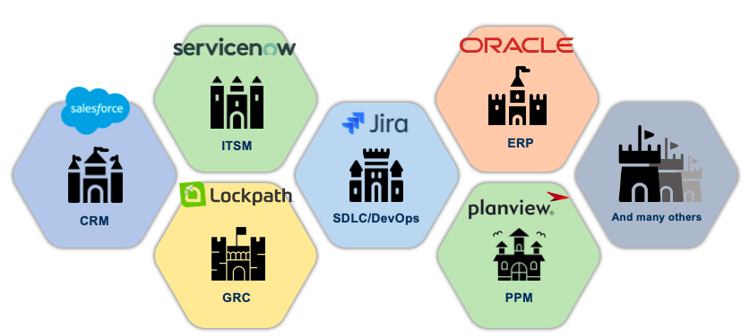 Atlassian and ServiceNow are the two dominant players in the ITSM space and JSM and ServiceNow control a significant share of the market between them. Interestingly then, how this billion-dollar space develops going forward will largely be down to how well JSM is able to challenge the established ServiceNow. From the way things look at the moment, Atlassian should feel very confident.
Get in touch with us at sales@contegix.com if you want to learn more about JSM and how it can serve you.