One of our primary focuses at Contegix is watching the Atlassian Marketplace carefully; picking up trends, analyzing top sellers and performers, and producing reports on the different categories of apps. Due to COVID-19 and the large-scale shift around the world to remote work, the criticality of an intranet becomes elevated; without visual cues that someone isn't busy, staff are more hesitant to grab a moment with a colleague for any number of reasons – like perhaps that the information they want is already online. So let's discuss the intranet app options in the Marketplace, and how they can improve your organization's Confluence experience.
It's an omission, we feel, that the Atlassian Marketplace does not actually recognize "Intranet" as a category. Instead, intranet apps are buried among other categories. We feel Intranets (and Extranets) are paramount for firms that are operating at any scale with Atlassian products. Intranets are well served by Confluence and deserve recognition and analysis as a category.
Our analysis shows that Intranet apps are growing in popularity, with almost 14,000 instances in use, and consistent growth of around 11.5%. With remote work being the norm these days, those numbers are certain to increase.

Contegix has implemented all of the technologies in this article. Some we use internally, others have been for client engagements. This article focuses on apps that extend Confluence. Many of those vendors have grown up alongside Confluence since the early days in 2003.
What is an Intranet and why does Collaboration Matter?
Intranets help staff work together. They provide a model/overview of the scope of work, a starting point to establish what's important, and a place in which to get work done. Technically, an Intranet is all your web-based applications available internally to staff (employees and trusted contractors), this would include all products across the Atlassian Toolchain, such as Trello or Jira Software. Commonly, however, an intranet means a place to get information and build on the ideas of others through the progression of content and documents, and the exchange of conversation pieces, often using features such as comments and actions.
For Collaboration, we recommend Confluence, Atlassian's main collaboration tool. This article outlines leading ways to extend Confluence using our favourite apps plus other very handy utilities. Particularly relevant in an intranet context is Jira Service Desk, which acts as a ticketing system backed by Confluence as a self-serve knowledge base providing immediate answers and a shared learning environment for service desk workers.
Distinguished simply by their audiences, are Websites and Extranets – your website being a web-based information site available to typically anyone, and Extranets, which provide collaboration spaces to customers and suppliers and other select outsiders. Need to decide? If the site has no contribution options, then it's a website. How about between Intranet and Extranet? A key quality of Confluence intranets is "the openness of as much as possible by default". Organizations that need a mix quite often run two Confluence instances e.g. their intranet on a separate instance of Confluence to the extranet. On the intranet, most things are open; on the extranet, most things are closed (for example, a customer would typically be given access to a single space and precautions made to limit access to the people directory). Extranets are often best on Cloud to avoid firewall issues.
Website Uses
It's possible to use Confluence for your public website, however, when this is for general public use, WordPress is best suited for this job. If you must have public-facing Confluence and a flexible look is paramount, Brikit Theme Press for Confluence provides many options to limit access to Confluence's collaboration qualities and uplift looks. A good example of using Brikit is for organizations that need standard Confluence for internal use, and don't want to run an extra technology outside but don't need a lot other than for the web-facing portion to act as a brochure. But, as we tour other leaders in the pack you'll see that looks aren't everything!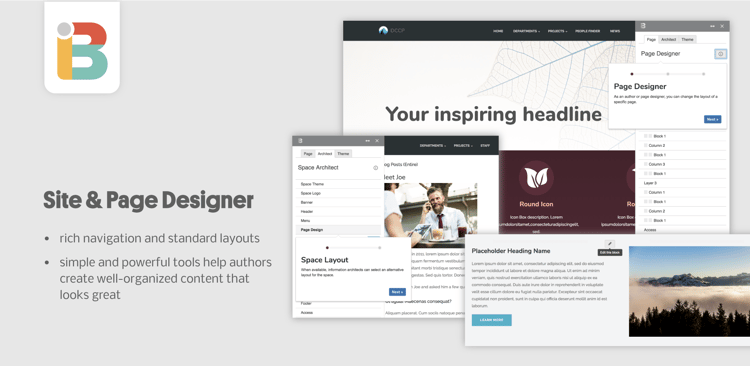 Technologies exist to publish content between team spaces, between Confluence instances and between other technology platforms. Notable examples here are Comala Publishing from Comalatech, and Scroll Viewport for Confluence, from K15t. Both of these drive the flow of changes to documentation into different trees of content that represent finished versions, often into spaces named according to the version. Famously, Scroll Viewport is used by Atlassian to power their public documentation at confluence.atlassian.com, providing a clean, non-collaborative view into the underlying Confluence content. And where an extranet is used, some solutions can publish a copy to a different public-facing Confluence instance.
Further, if you run Confluence on Cloud, K15t provides a bridge to publish content from Confluence to WordPress, Scroll WP Publisher. When documentation needs a process to ensure advancement in an orderly fashion, Comala Document Control and Comala Document Approval are great solutions for DC and Cloud respectively.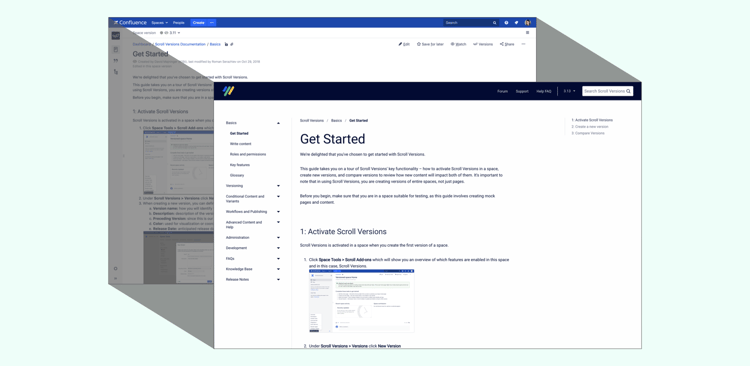 Collaboration
If you bought Atlassian tools, its generally because you want to work together. Teams are your organization's powerhouse. Empowering your teams' fuels your organization's end-game. The faster you share the more quickly you can pivot.
Confluence is fundamentally a collaboration tool. It encourages staff to work together by making everyone's contributions readily visible to colleagues, alerting users of updates from others, and providing mechanisms to explicitly share content. Confluence's editor – a rich text and simultaneous editing environment – is much loved.
Collaboration is core to organizational agility and sharing/learning. Sharing helps other staff learn. When new goals emerge they must be communicated, understood, and acted upon by potentially thousands of staff members. The faster this rearrangement (pivot) is operationalized (swarmed) the more able the firm to compete under various business conditions. Adeptly mobilizing in response to change is the key to thriving – meanwhile, your competitors act out the same old thinking and processes over again, failing to survive and not even wondering what happened.
The Future is Bright, With More Than a Touch of Cloud
Atlassian is trail-blazing the Software As a Service industry with it's lead to cloud, such as with Confluence. It's on Cloud that you'll see all of Atlassian's innovations in recent years. Contrast that to Confluence 7.0 Data Center and Server, however, and you'll find that the biggest announcement was that on-premise was going to ease your migration journey to Cloud. Minor releases for on-premise since have been similarly pale. Customers seem to be getting the message, with 90% of new starts for Confluence over on Cloud and far more customers migrating to Cloud than from Cloud.
On Cloud, Confluence has seen many welcome overhauls, in particular around the navigation experience, making sure you can quickly and easily get back to recent work and improving collaboration. Atlassian innovates rapidly on Cloud, using behavioural feedback learn what user experience tweaks work. Atlassian generally doesn't state when or even if those same changes will land behind the firewall.
Nonetheless, for certain use-cases, Intranets being one of them, there are great reasons to use Data Center. Paired with proper Marketplace apps, functionality on-premise is currently deeper, mainly due to the wealth of apps dating back over a decade, your ability to keep IT in charge, and – should you wish – the unlimited flexibility of your own code case. (Note: Contegix can run Data Center for you, or help you migrate to or from Cloud giving you the best of both worlds).
Let's examine the apps for DC and Server – at the end of this article, we'll return to Cloud as the same vendors have made inroads to innovate for Cloud. There are plenty of circumstances in which Cloud intranet technologies can meet your needs.
Features of Intranet Apps for Confluence
Theming is the most commonly available and first thought-of addition to Atlassian Confluence. Our analysis shows robust sales in this category. Theming allows organizations to establish a branding look (colours, logos, fonts etc.) When staff feel at home they are more likely to contribute and, with minimal effort, an admin can reinforce a coherent experience.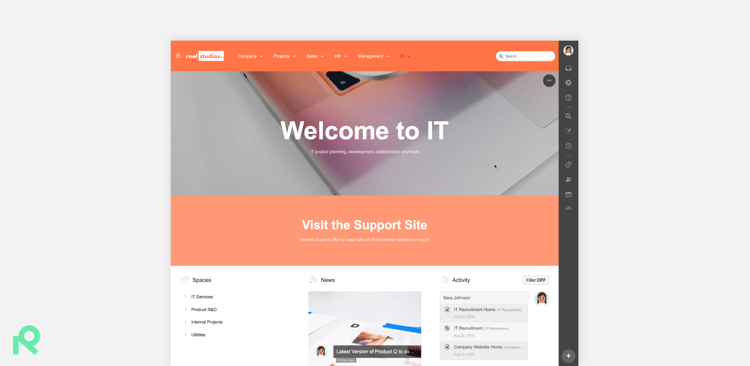 Because Confluence is so flexible and styled after a wiki, content can be added almost anywhere, and most companies permit open contribution across the site. Teams use the spaces to serve their own needs, a great advantage compared to systems that require administrators or programmers to provide for the team. With the right training & orientation, the engagement skyrockets and a lot is generated every day. Over time staff get into curating not just content – some of the most valuable content they made will be structural, like pages that summarize others (as an example, at Contegix we have job responsibility pages that mention who is primarily responsible for each job. We then have structured searches for roles, so anyone can see what is expected of their role. This helps in times of absence, performance reviews and hiring.)
Utility Apps that help summarize or layout content have always been a favourite, such as macros that allow the page author to add tabs to structure content. A notable example of this is Navitabs – Tabs for Confluence.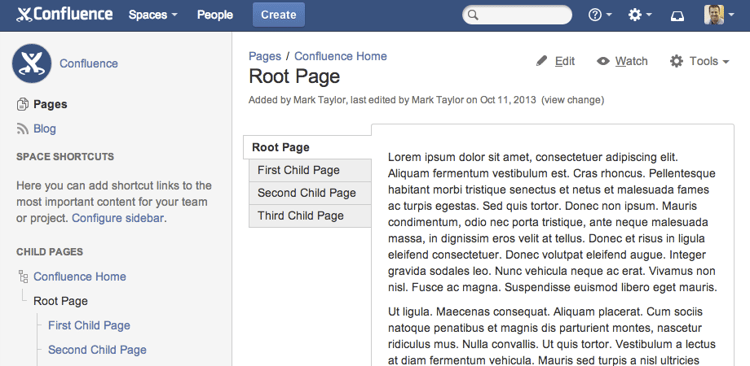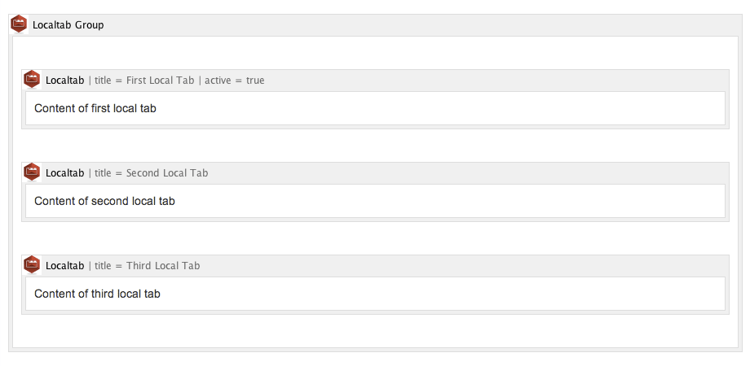 Whilst Refined – Structure and Theme Confluence provides themes and quickly constructed dashboards tailored to various departments, its unique differentiator is Space Layouts. These provide a way to add functionality to all pages in a particular set of spaces. For example, a space administrator can add persistent searches in the page footer so all pages in that space automatically show the related pages or incoming links. In our marketing spaces, for example, we always list key attachment types (such as PDFs) in the sidebar. This keeps navigational constructs common to multiple pages separate from the content itself.
Navigation needs to scale
In a team of 5 people co-habiting a physical space, the chances are the verbal conversation means that everyone can track context without much being written. With 25 or 125, that increasingly becomes impossible. For many organizations working at scale or remotely, the Confluence site becomes the ongoing way people immerse themselves in the company. Now, Site Navigation becomes increasingly pivotal.
Site Navigation communicates to all staff the organization's major functional concerns and how the various aspects relate (for a consulting company this might be Customers, Sales & Marketing, Consulting, Billing, Solutions, Operations and IT ). Good navigation makes it obvious where a staff member should write their contributions. When staff don't know what keywords to use in search it's the navigation that can educate while helping staff to quickly get the information they need (e.g. how-to instructions).
In unprecedented times like these, it's important for site navigation to be adapted to bring forward emerging concerns.
When navigation is poor content, the Confluence team needs feedback – intranet design needs to keep aligned to staff mental processes, for example, site grouping of spaces and functions into a hierarchy matters a lot for relaying relative importance (e.g. on our intranet our first tab is Customers, echoing our customer-first value).
Navigation needs to be personalized
We have clients with 30,000 people in Confluence. On small sites, it's possible to use the same navigation for all staff and for an administrator to be able to manually implement changes through re-design. On larger sites what's vital for one group is barely important at all to the rest, and administrators struggle figuring out and/or keeping up with various stakeholder change requests leaving the long-tail unimplemented. This is a massive problem by 500 users – and this number can be smaller for multilingual organizations and those that have many distinct functions (e.g. hospitals) or physical locations (e.g. schools), not least because it's in niche interests where specialist communities would find the most value. Also, as the staff population increases, corporate communications competes for staff attention, with departments, other local interest groups all trying to drive a narrative or otherwise influence the organization.
Linchpin – the king of Confluence Intranets
Adding a kind of magic to "Team", Linchpin elevates people's inherent characteristics (e.g. language, location, department, interests, etc.), into a market of common interests to attract staff members together. Based on the settings in your profile, Linchpin makes every staff member's navigation, news and starting point personal. Through finding such commonalities, Linchpin becomes an information switchboard, propelling threads of communication by people who care about the same things.
Going back to the Hospitals example, for instance, staff can have specialisms such as Cardiology, be in locations Toronto, Montreal or Calgary, speaking Farsi and French, enjoying similar leisure interests.
Mobilizing large numbers of professional workers towards objectives is tremendously demanding in times of stability, but when goals radically shift, even mid-sizes teams struggle. In a lot of ways, bigger organizations face constant change of some scale anyway through a percolator of the constant churn of industry pressure, technological innovation and political shifts. At some intensity, enough disruption drives complexity and confusion and potentially chaos.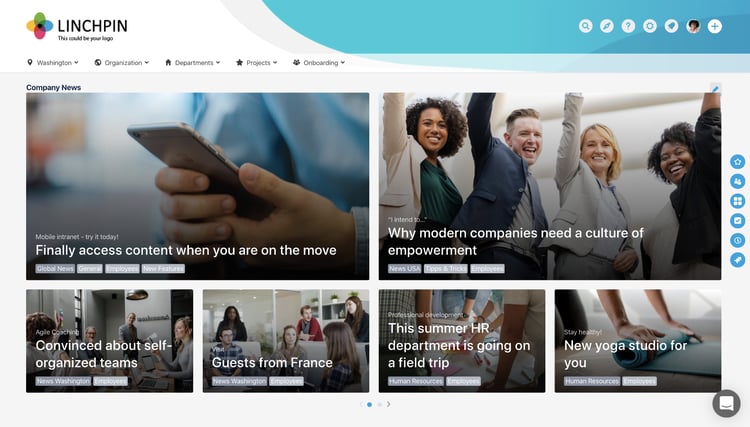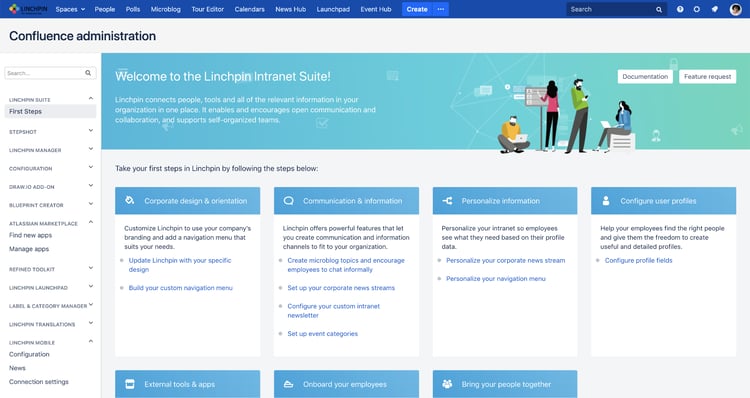 Wrap up
Atlassian's Confluence is used every day by millions of people in organizations of all sizes worldwide. The bigger your team or more chaotic the times the more you need to make new connections, communicate clearly and drive change. An intranet is powerful tool in Atlassian's arsenal.
Linchpin, coming to a Confluence Cloud near you.
Atlassian's mantra for cloud is strong, and vendors in the Marketplace heed its dominance. In the forthcoming weeks, Linchpin beta trials start for Cloud.
Like many adventures, the move to Cloud is a challenge. We'd love to help you get there.
If you have any questions about intranets, Confluence, or anything else Atlassian, reach out to us and we'd love to discuss it with you.