As a Cloud Specialized Atlassian Platinum Solution Partner, Contegix is ideally situated to help you move to Atlassian Cloud. Here we will give you the lowdown on why so many Atlassian customers are migrating to the cloud, what you can expect during the migration process, and how we can help you get there successfully.
Why Move to Atlassian Cloud?
With over 200,000 Atlassian customers now on the cloud (out of 240,000+ total) more and more organizations are recognizing that the Atlassian cloud platform is right for them.
Being on the cloud can be very advantageous and with the end of life of Server approaching, it provides a great alternative to customers looking for an alternative that will help them reduce overhead, maintain security, and increase their agility.
Other benefits of being on Atlassian cloud include:
Reduced costs
Never having to upgrade again
Enhanced privacy and reliability
The ability to work from anywhere
Centralized governance
Simplified administration
Why Move to the Cloud with Contegix?
For new customers, landing on the cloud is a very simple process. However, for those with existing Server or Data Center Atlassian instances, there is a lot more to think about.
As an Atlassian Cloud Specialized Platinum Solution Partner, we have the trusted technical and business experience to get you onto the cloud successfully. With migrations being one of our day-to-day jobs, we have experience dealing with unexpected technical and functional challenges which we can help you avoid! Our team is also made up of ex-Atlassian engineers who will be available to support you every step of the way.
Likewise, through our Marketplace Analytics Research Service™ (MARS™) we are able to optimize migrations of 3rd party apps. Many apps on Server/DC don't migrate to cloud–through MARS™ we are optimally positioned to help our customers find the best possible alternative application. In the sphere of migrating 3rd party applications we also have ample experience migrating complex apps (such as Zephyr & BigPicture), writing custom APIs/scripts, and re-scripting Syl/Groovy.
The Migration Process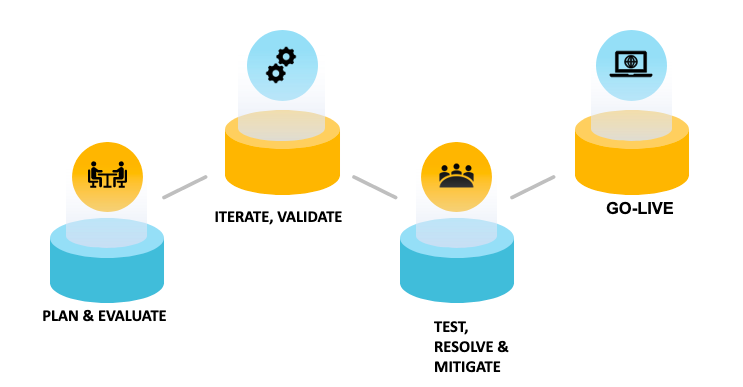 Pre Migration
Based on your resolution to migrate, we evaluate your migration type, review your security and compliance requirements, evaluate and review any apps* and custom integrations you may have to determine what you'll need for your Jira Cloud site. To help you through this, we've put together some advice and best practices.
*App data is not typically included in the backup when migrating from Jira Server to Jira Cloud. Some apps do have the capability to export and import their data but we'll need to check with the app developers or their documentation to confirm if this is possible.
Prepare to Migrate
Now that you've decided to migrate, let's get you there.
Depending on the size of your organization and the number of users, a migration may require a fully-fledged project with established roles and responsibilities across teams. As early as possible, we should communicate with individuals and stakeholders who are interested and impacted by a move to Jira Cloud.
At this stage, your migration communication plan should comprise items like:
When will the migration take place?
What downtime can users expect?
What will happen to the former site after migrating?
Will it still be available or readable?
Prepare your Jira Server site – test your current environment to determine if you need to perform any changes before migrating your data.
Set up your Atlassian Cloud
Set up your organization
An organization allows you to view all the Atlassian Cloud users at your company in one place, manage your users' accounts, and set up security features like SAML SSO. Organizations are essential if your company manages more than one cloud site and requires insight into all your sites, products, and the users who can access them.
Set up SSO
If you plan to use SSO in your cloud site, set this up in advance so it will continue running seamlessly for your users when you migrate.

Run a test migration and QA.
Optimization
Launch and on-board users
Establish cloud security practices
End-of-life old systems
Make use of mobile apps
Explore cloud apps and integrations
Stay up to date
If you are interested in learning more about our migration services then please get in touch with us.