How do you start a Jira without tracking the work in Jira? Chicken before the egg, right? At Contegix Professional Services, we have solved the problem of governing Jira with Jira.
In our case, we had an increasing need to re-organize around transparency to available work and increasing visibility to the end-to-end engagement pipeline. We needed a way to govern the development of a new system, move all our mission-critical activities to the new system, and decommission the old system together as a team. We started with this minimum construct, and a team that can be fed by two pizzas (Trust us, we can eat, and a team that cannot be fed by two pizzas is too big to actually get work done. So, keep the team size manageable). We ended with all engagement activities managed in Jira and Confluence, with approximately 60-70% of the Professional Service team contributing to innovation through the governance system.
If you are a CEO, Director, Manager, Developer, or "the Jira person" at your company (in other words, any person on a team), governing Jira with Jira should be your first step in organizing. If that sounds intimidating, stick around. We have you covered. We have found there is a straightforward, repeatable process to organize culture around a shared vision. Read on to see how we do it.
We add all team members to a governance project in Jira, and everyone works to develop, improve, and maintain the Jira instance follows the Governance Workflow for Jira. The Governance Workflow for Jira enables team members to create new issues that whole team can view, develop prioritized issues, and get peer-review so the team can resolve an issue. This way anyone on the team can provide feedback, get feedback, and affect positive change on the efficacy of the shared solution.
The Governance Workflow for Jira is a 5-step workflow (with two alternative step-flows) that enables fast development through feedback and trust, based on transparency.
With Governance Workflow for Jira, users can:
Add the workflow to any Project (we suggest to start with a Governance Project)
Create and groom issues in a backlog to elevate issues for Start
Flow issues across a two-way Develop flow, including Analyze and Canceled
Receive Review to improve quality with feedback from other users
Release resolved issues to report progress and improvements
Add to a board to visualize work-in-progress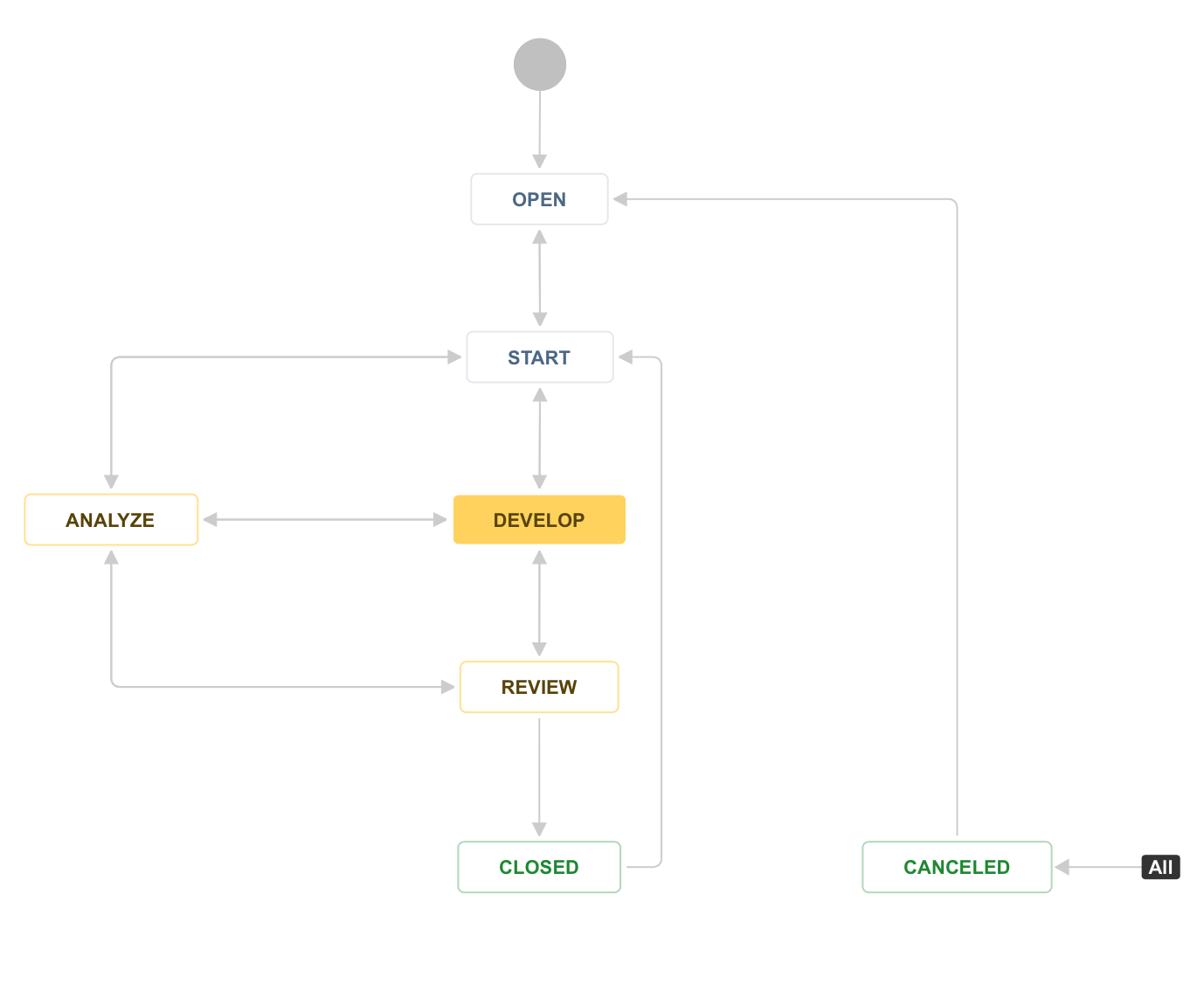 ---

---

---
Please let our experimental risk and engineered solution help us all learn and grow:
Start with Governance Workflow for Jira today; download it from the Atlassian Marketplace free!
Download Governance for Jira workflow bundle
Install Governance for Jira workflow bundle

As a Jira System Administrator, select the Administration cog, choose Issues..
In the Workflows section, select Import > Import Workflows..
Select a workflow, Browse.. to the Governance for Jira workflow (from Step 1), select Next to upload..
If you prefer, rename Jira's default name for workflow, select Next to continue..
If you prefer, map the status names to existing statuses, select Next to continue..
Confirm any workflow status changes, select Import the workflow..
Once the workflow is imported, changes can be made to configuration details, select Done to finish.

Enjoy the workflow in Jira!
If your backlog gets to large or too complex, give us a call, we are happy to work issues with you!
Sounds Great. But, Where Are the Measurements? Agreed.
We were stuck, blocked and defeated, we wanted change, we had energy to make change, but we needed something... that spark...a catalyst. With that mindset, when we started governing Jira with Jira, we decided any change would be for the better. Since the initial Minimum Viable (Jira) Project (MVP) we have increased participation, improved flow mechanics and automated review notifications. Let's look at some data from our first 6 Releases:
Version

Duration

Participation

Issues Resolved

Governed System Usage

MVP

1 month

3 people

12

Essential Work

Version 1

2 months

4 people

14

Experimental Work

Version 2

2 months

4 people (1 new)

11

Experimental Work

Version 3

2 months

4 people

31

Pilot Work

Version 4

2 months

8 people (3 new)

100

All New Work

Version 5*

2 months

13 people (3 new)

105

All Work

Release 5 - 50% Complete