Appfire have announced the acquisition of Digital Toucan, makers of the very popular and fast-growing JQL Search Extensions and OKR for Jira apps.
Following on from their acquisition of 7pace and venture into the Microsoft ecosystem, this takeover demonstrates Appfire's continued commitment to strengthening the breadth and depth of their Atlassian Marketplace portfolio of apps, particularly in high-growth areas.
Here we'll dive into Digital Toucan and their portfolio of apps, focusing on OKR for Jira and JQL Search Extensions for Jira, as well as taking a look at what this means for Appfire's strategy both now and looking towards the future.
Digital Toucan: What Do They Bring
While Digital Toucan make a number of popular apps, including Panorama and Goals, project, and programs for Jira, their largest and fastest-growing apps are OKR for Jira and JQL Search Extensions for Jira.
As shown by Figure 1, OKR for Jira has seen very impressive growth of 34% this year while, even more impressively, JQL Search Extensions has grown by 39% to around 2,800 instances.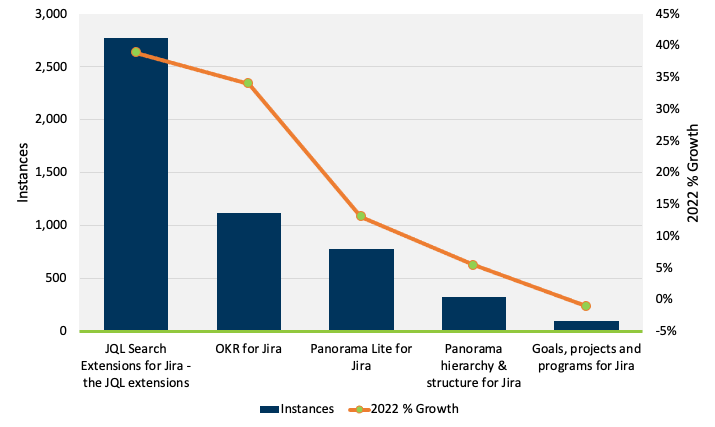 What Appfire have acquired in OKR for Jira and JQL Search Extensions is two apps that are the leading apps in rapidly moving spaces.
OKR for Jira
OKR for Jira has had an excellent 2022 and is part of the rapidly booming market segment of OKR Marketplace addons.
Of the three leading paid OKR Atlassian Marketplace apps, OKR for Jira by Digital Toucan is the smallest by both users and installs. However, it has an excellent average rating of 3.88 and is well positioned to continue its impressive growth rate, especially now that OKR with Gantt Roadmap for Jira has recently introduced pricing to their previously free app.
Both OKR for Jira and OKR Board for Jira have grown by 34% this year while OKR with Gantt Roadmap for Jira (using a Free model up until recently) has grown from 15 instances to over 1,300.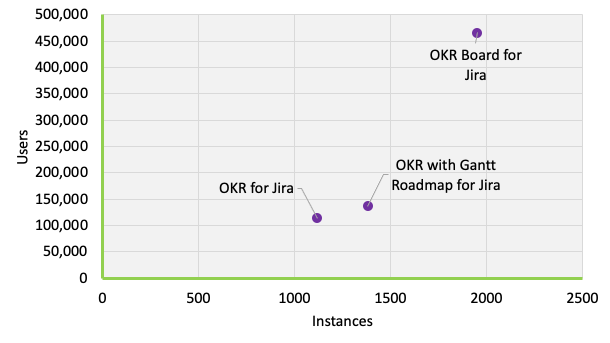 Figure 3 shows that while OKR with Gantt Roadmap for Jira has recently seen pricing introduced it is significantly lower than that of its two competitors on Cloud. However, Digital Toucan & Appfire are priced more competitively than OKR Board for Jira with annual costs, especially around the 5,000-20,000 user marks.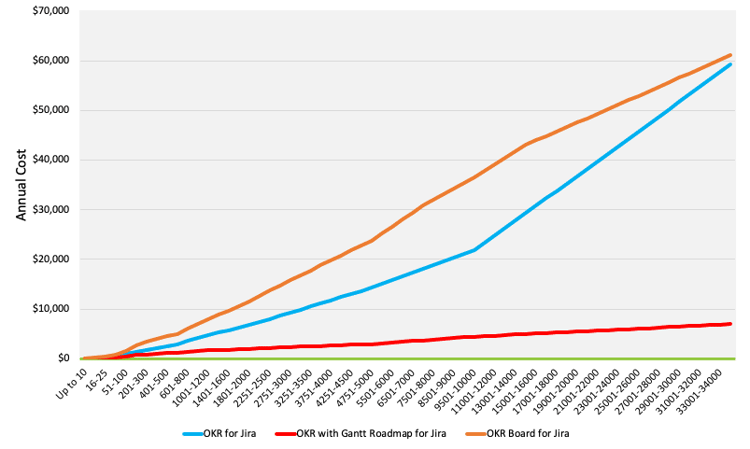 With its rich feature depth and future synergies with the Appfire team and products, we can expect to see a continually bright future for OKR for Jira.
JQL Search Extensions for Jira
JQL Search Extensions is both the largest and fastest growing JQL boosting app on the Atlassian Marketplace. As Figure 4 shows, JQL Search Extensions is dominating this space and is likely growing both its market share organically as well as acquiring customers from competitors (as a number have negative growth rates).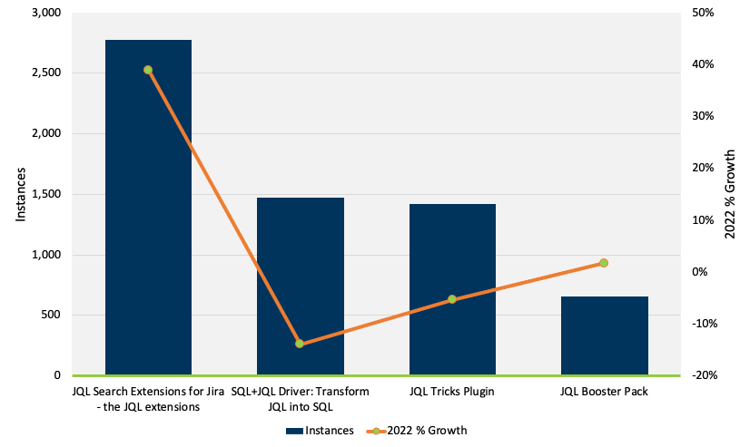 With JQL Search Extensions being optimized for use on the Cloud, and with Digital Toucan being a Cloud first vendor, this acquisition demonstrates further how Appfire are ensuring they are strongly positioned as more and more organizations make the move to the Cloud.
Where Does This Leave Appfire & What's Next?
The acquisition of Digital Toucan strengthens Appfire's position in both the Planning and Reporting categories, fields in which they are already very strong. However, as we have mentioned, the apps acquired fill specific niches.
OKR Marketplace apps have exploded in popularity over the past year or so. This move perhaps demonstrates that Appfire, more than ever, have their finger on the pulse and are keen to move into areas experiencing strong growth. With their significant resources, Appfire will hope that their product investment will turn their apps into must-haves in any particular space.
JQL Search Extensions likely represents a slightly different story for Appfire. Rather than acquiring a leading app in a very hot space, with JQL Search Extension, Appfire have acquired the undisputed market leader. Both OKR for Jira and JQL Search Extensions make interesting additions to Appfire's portfolios then, albeit for differing reasons.
Finally, as with the vast majority of Appfire's takeovers, the Digital Toucan team (including the leadership team) will be joining Appfire. Appfire are building up quite an array of innovative and skilled individuals whose approaches to building apps will likely be a force to be reckoned with going forwards.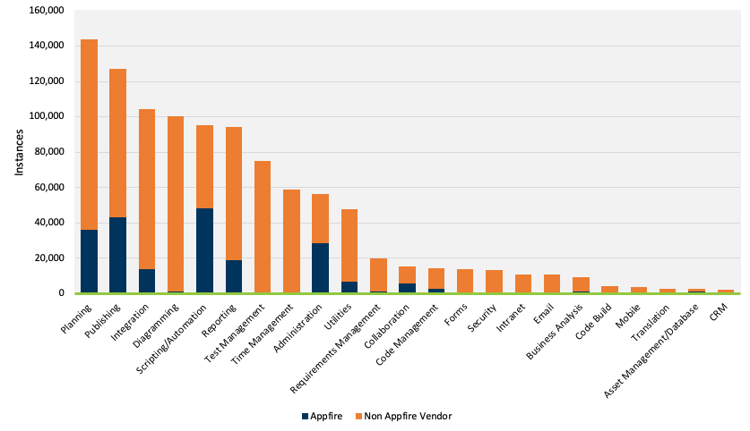 Congratulations to everyone at Appfire and Digital Toucan! You can also read more about the acquisition here.
If you are interested in learning more about any of our unique offerings then please get in touch with us.