With their first acquisition since bringing Comalatech onboard in April, Appfire have acquired Arsenale, the makers of Arsenale Dataplane – Jira Reports.
Appfire were already the market leaders in Reporting (with 17,000+ instances across their 15 MARS categorized Reporting apps), and this move has further strengthened this position in this space. The move also builds upon Appfire's growing expertise with Arsenale founder David Goldstein joining the team.
Arsenale Dataplane is an app for Jira Data Center & Server that provides managers with precise insights into critical Jira issues. Arsenale Dataplane provides pre-configured templates for service performance, team performance, issue lifecycles, and more… as well as the ability to create customized charts. Charts can also be shared with other users or exported.
Reporting
The Reporting category is one of the most dynamic and fast growing categories in the Atlassian Marketplace. As Figure 1 shows, behind Testing and Diagramming, Reporting is the third fastest growing category with both established apps and new disruptive entrants growing well.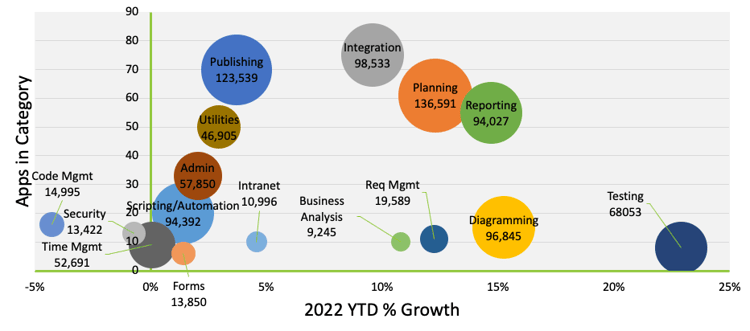 In this rapidly growing space, Appfire are the largest vendor, followed by Stiltsoft, eazyBI, and Old Street Solutions. The acquisition of Arsenale Dataplane adds 794 installs to Appfire's count with Arsenale Dataplane's 794 installs accounting for 760,000 users.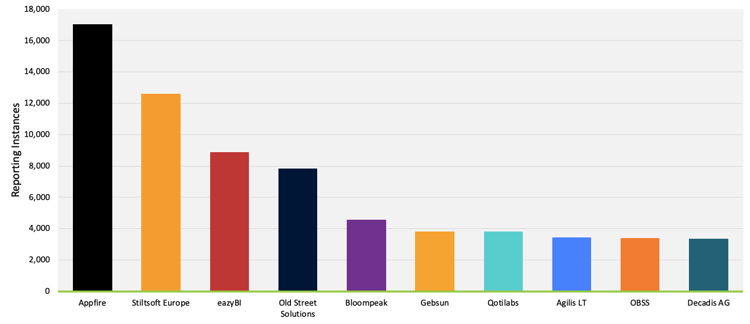 When looking at the breakdown of what product Appfire's Reporting instances are on versus the rest of the Marketplace we can see that Appfire is heavily based in Bitbucket Reporting apps. While Appfire has around 20% of its Reporting instances on Bitbucket, this figure is closer to 5% for the Marketplace as a whole. Arsenale Dataplane, as a Jira application, goes some way to boosting Appfire's share in Jira Reporting which makes up for 66% of Appfire's reporting instances.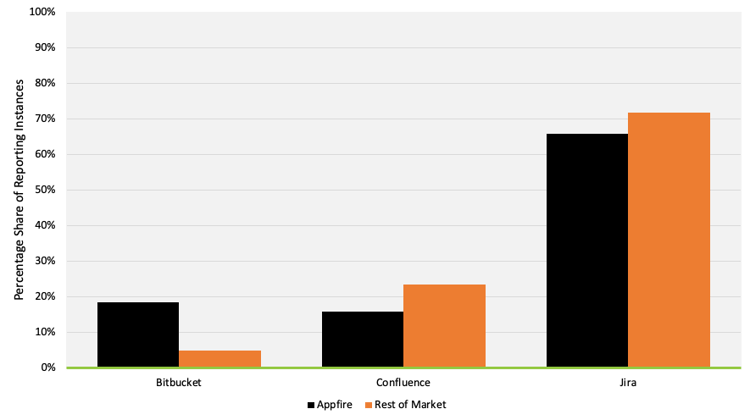 Looking specifically at Arsenale Dataplane, its growth over 2022 so far has not been spectacular with it having shrunk by 7.5%. However, when looking at trends across the Marketplace and in the Reporting category specifically we can see that this is perhaps not a major surprise.
As Figure 4 shows, Reporting apps that are cloud capable (i.e. they run on the cloud) have grown overall by 22% this year so far versus apps that don't run on the cloud which have overall shrunk by 7%.
This is an indicator to app vendors that no matter how great their apps is, both in Reporting and the wider Marketplace, that customers are moving to the cloud and that apps that aren't cloud capable will find growth difficult to come by going forward.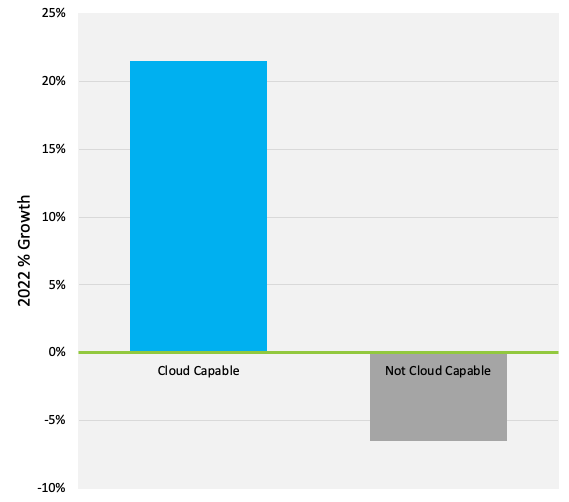 We have recently started collecting user data in MARS which helps us give an additional insight into not just how many customers an app has, but how large these customers are. For Jira Reporting apps, Figure 5 demonstrates both the size of an app in terms of installs as well as the number of users an app has. For instance we can see that EazyBI for Jira, Rich Filters for Jira Dashbaords, Time in Status, and Custom Charts for Jira all stand out in terms of installs, users, or both. We can also see how Arsenale Dataplane fits into the Reporting category.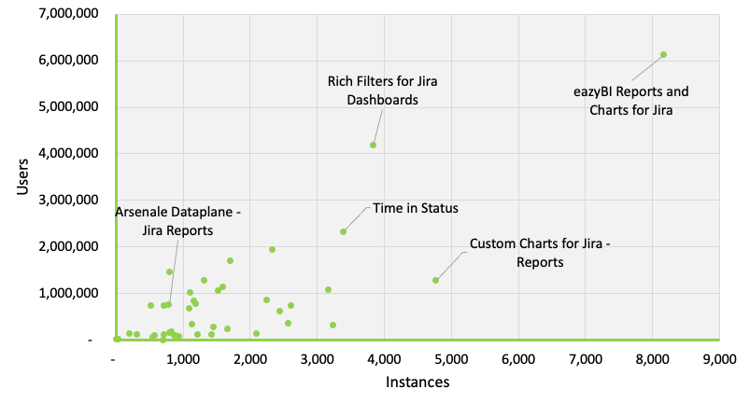 Reporting is a fascinating category and clearly one that Appfire is continuing to invest in. Acquiring Arsenale and bringing their highly experienced founder David Goldstein into the Appfire team will help them find new ways to innovate in the Jira reporting space and continue the growth of this incredibly useful space.
If you have any questions about MARS™ or any of our unique offerings then please touch with us at sales@contegix.com.