In their first major acquisition outside of the Atlassian ecosystem, Appfire have acquired 7pace, the makers of 7pace Timetracker. In a move that brings them both into the time management space and the Microsoft ecosystem, Appfire are demonstrating their desire to grow both their Atlassian offering across every major category and expand across strategic ecosystems.
With 7pace launching on GitHub soon and Whiteboards.io being released as a standalone application, 2022 has been an incredibly significant year for Appfire in terms of diversifying their portfolio both on and beyond the Atlassian Marketplace. However, with Appfire planning to bring 7pace to the Atlassian Marketplace, Appfire are still heavily invested in creating a comprehensive Atlassian solution that aims to cover all customer requirements.
Atlassian Time Management
The first of the two elements to the acquisition of 7pace is that Appfire plans to bring 7pace Timetracker onto the Atlassian Marketplace.
As Figure 1 shows, along with Test Management and Diagramming, Time Management is the last remaining major category in which Appfire does not have a significant presence.
With Tempo dominating this space (controlling 70% of all instances and 76% of all users in the category) Appfire clearly thought that looking beyond the Marketplace was the best approach to find a solution worthy of breaking into the Time Management field.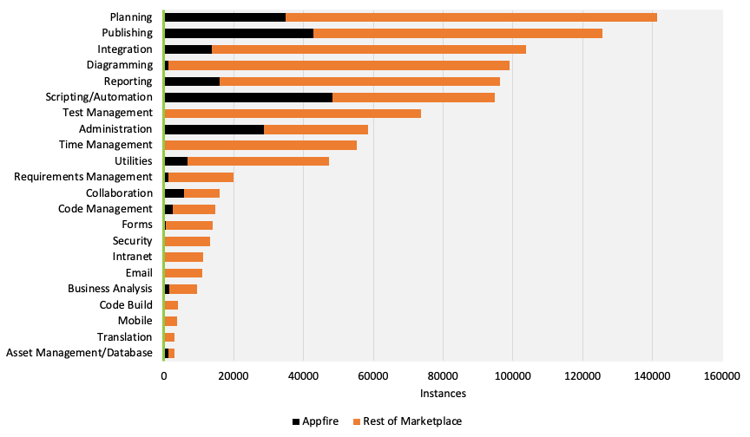 Looking at the lay of the land of the Marketplace on a user basis, Figure 2 paints a similar picture. While having a significant market share in Publishing, Scripting, Administration, and a host of other major categories, Appfire's lack of presence in Time Management is certainly an outlier.
Figure 1 & 2 demonstrate quite well, we think, where Appfire will be looking to make their future moves. With their desire to become a complete 'one-stop-shop' for all customers' Atlassian Marketplace needs, any gaps in these charts are a must-fill for Appfire. So with Appfire now having moved into Time Management, we could expect to see future approaches into Diagramming, Testing, and Security in particular.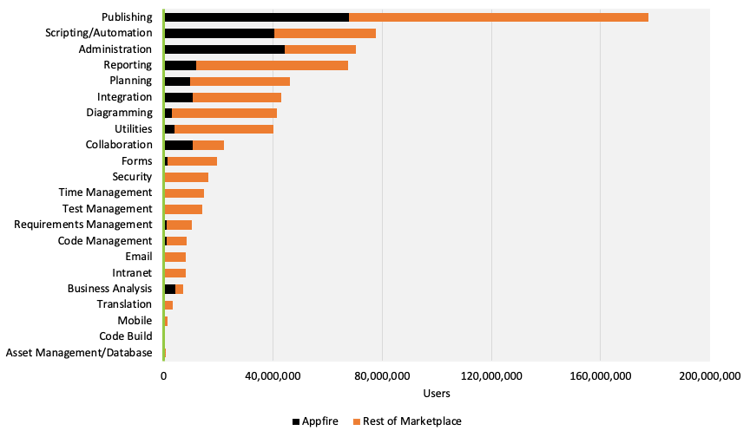 Diving into the Time Management category itself, we can clearly see that Tempo is the dominant player in this space. Tempo Timesheets is one of the largest Atlassian Marketplace applications and has impressively grown by 10% over 2022 so far.
Furthermore, with Tempo's merger with ALM Works, Tempo (like Appfire) are expanding their reach in the Marketplace and are looking to create a broader, more comprehensive solution. It'll be very interesting to see how 7pace translates from Azure Devops to Jira and whether it will be able to challenge Tempo's current hegemony.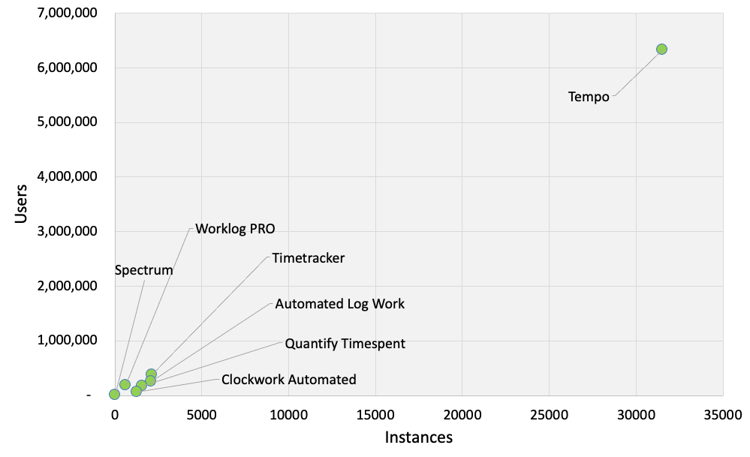 Beyond the Atlassian Ecosystem
The second element to this takeover is that it represents Appfire's second major foray beyond the Atlassian ecosystem. In August 2022 Appfire hailed the release of Whiteboards.io as a stand-alone product as "a historic first step outside of the Atlassian ecosystem for the company." With the acquisition of 7pace, Appfire have made a significant second step.
Being built for Azure Devops, 7pace marks a significant move for Appfire into the Microsoft ecosystem. Furthermore, with 7pace launching on GitHub soon, Appfire will shortly be represented in within three of the largest business ecosystems: Atlassian, Microsoft, and GitHub.
With Appfire growing at such a remarkable rate, their expansion beyond the Atlassian ecosystem is not entirely surprising. With natural synergies between these various platforms and ecosystems, we expect that Appfire will be able to translate the success they've had on the Atlassian platform across the board.
Looking specifically into Appfire's share of the Atlassian Marketplace, Figure 4 perhaps demonstrates one of the reasons why they have started to look beyond the Atlassian ecosystem. In terms of installs, Appfire apps make up 18% of all Marketplace instances. Meanwhile, the story is even better for Appfire when it comes to the number of users these apps generate with Appfire apps constituting 27% of all Marketplace addon users. Many of Appfire's apps are optimized for enterprise customers so this significant user figure makes sense with this in mind.
Beyond expanding into the categories we previously mentioned, Appfire may feel like they will soon run out of room for growth within the Atlassian ecosystem, hence why they are looking to expand beyond it.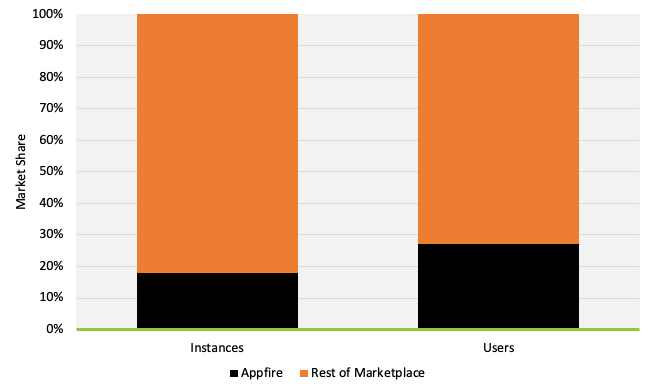 The Wrap
In our view, this acquisition may be one of the most significant yet–both for what it represents for Appfire's expansion beyond the Atlassian world and within the Atlassian ecosystem (the Time Management space specifically).
Congratulations to all involved at both Appfire and 7pace! We look forward to seeing how this partnership evolves going forward.
If you are interested in learning more about any of our unique offerings then please get in touch with us.